Hi everyone, and welcome to our new cannabis horticulture series. In this article, we'll be talking about how to water and feed your cannabis plants so you can know this too.
Before talking about water and fertilizer, I want to explain just what it is to a plant. Many misconceptions cause people to want to over water or over fertilize their cannabis plants.
Imagine a plant as a person. Water to a plant is the same as water to a person. It's not food the plant needs to eat. It's just water that is necessary consistently to stay alive, but just like a person getting water poisoning, too much water can also kill a plant.
Now let's take a look at fertilizer. Fertilizer is also not food for the plant to eat. Instead, it's the same as vitamins and minerals to us, which is needed to stay healthy, but too much of it will also cause problems. For example, we all need a certain amount of salt to stay healthy, but an excess of it could lead to swelling, high blood pressure, and heart disease.
So, you never want to over water or over-fertilize your plants. Neither of these in excess will boost the plants' growth and either harm the plant or kill it. If you're wondering what do plants eat? The best analogy would be sunlight is to plants what calories are to people.
Water
Which water is best for growing Cannabis?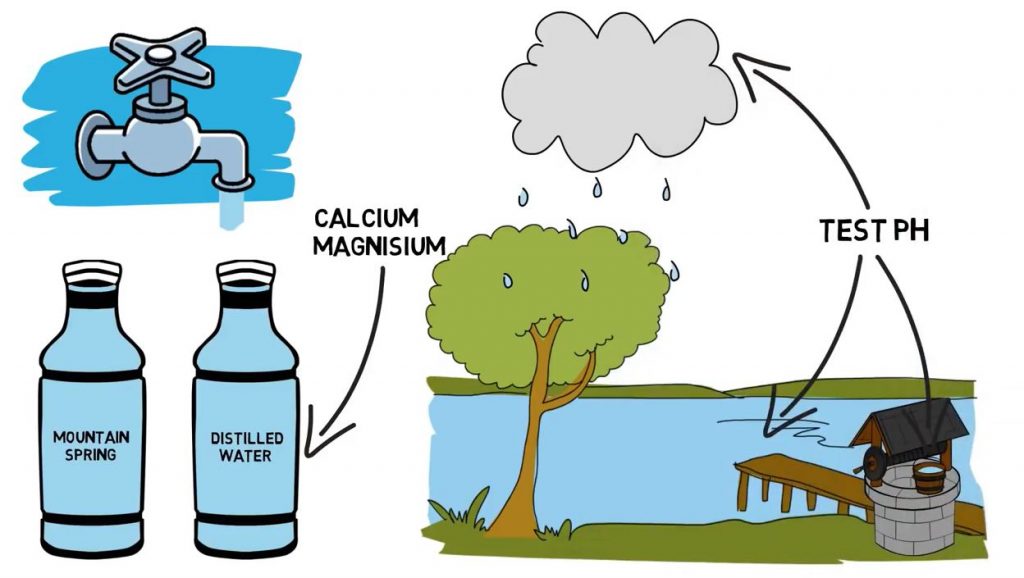 Now that we've got that covered let's take a look at the water.
The majority of people use water straight from the tap, which works just fine.
Bottled water works too if you don't have access to tap water or have issues with your tap water.
If you are using distilled bottled water, remember that you'll probably have to include a little bit of calcium and magnesium nutrients. While calcium and magnesium are found in mineral or spring water, the distilling process removes them along with everything else from the water.
Water from natural sources such as a lake, stream, or underground should be tested for pH since you never know where it's been. But generally, it should be safe as long as the source isn't contaminated.
Rainwater is also a good option. However, it's usually a little acidic and is also missing minerals and nutrients. So if you're using it, be sure to test and pH balance the water and include a little bit of calcium and magnesium.
Finally, don't use soft water to water your plants. When converting hard water to soft water, the process removes the calcium and magnesium and replaces them with sodium that harms the plant.
How to water Cannabis plants?
As for how much to water, it depends entirely on the plant size, the size of the pot, the soil mix used, and pot type.
If you are using a fair amount of perlite and a fabric pot, then saturate it completely regardless of its size. Keep watering until you see that water is running off the pot's bottom. It will make sure that the roots get water no matter where they are.
Don't water again until the top inch of soil is dry. If you're new to watering, I'd recommend not to water again until the plant looks under-watered with Juvie leaves. Almost all beginners water too frequently and don't have a good gauge for dry soil. I never had an issue with bringing a plant under-watered back to life. Usually, in an hour or two after watering, an underwater plant springs back to life with no signs that it was dying of thirst a few hours ago.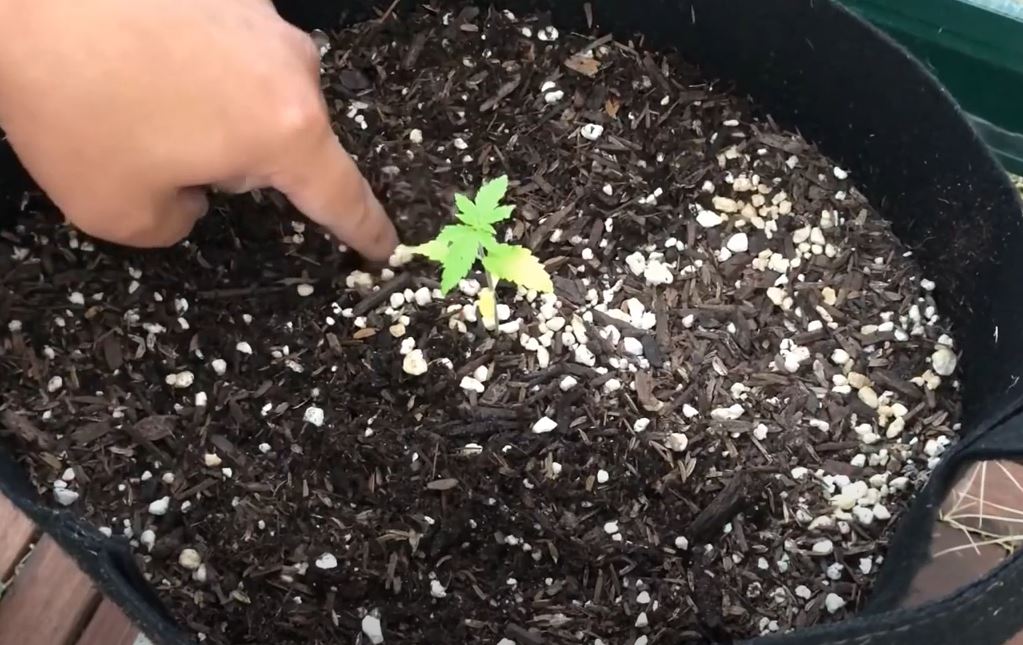 If you're using organic potting soil or didn't mix perlite with your soil, you will need to be a little more cautious when watering the plant. Remember that it's the roots that need access to water, not the leaves. When you are watering a young plant, I would recommend either watering in a circle around the plant or using a watering can that fans out the water. Do not saturate, or the excess water will stagnate in the pot, which will invite bugs and diseases.
When your plant is large enough, and the leaves are reaching the pot's edge, you can start saturating it. Make sure that the runoff is not being blocked by anything.
It might sound silly, but how the water hits the soil and plant also makes a difference.
Fertilizer
Types of fertilizers
Now let's take a look at fertilizers. There are two types of Fertilizers, solid and liquid. With the solid type, you get two options, organic and non-organic type. Organic soils and composts are the organic options, and the fertilizer sticks, bars, and time-release pellets are the non-organic options.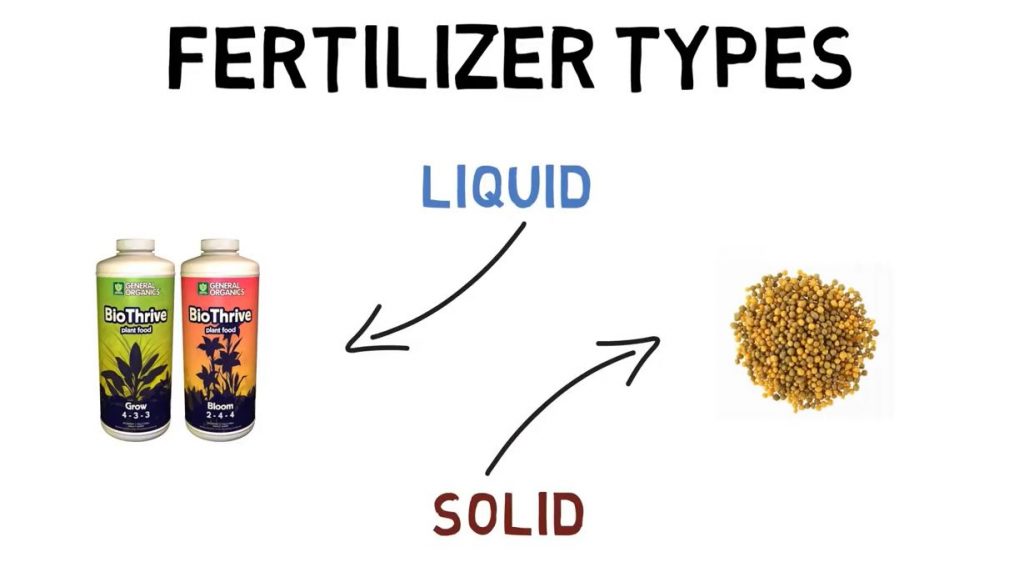 Solid fertilizers
Organic
Organic options are one of the best choices for new growers, but it's usually the most expensive option. With the organic fertilizer, you'll never need to worry about feeding your plants no matter what life cycle the plant is in. However, you'll need to replenish the organic matter in the soil if the plant starts to show signs that there aren't enough nutrients. Luckily it's pretty simple to replenish the organic matter. There are several products in the market that do exactly that.
Non-Organic
As for all types of solid non-organic fertilizers, I wouldn't recommend using any of them. Switching the plant from veg to flower will require a change in nutrients, but with a non-organic solid fertilizer, this is very hard to control. Also, having grow fertilizers in the soil when the cannabis is flowering could negatively affect the bud size and growth.
Liquid fertilizers
Let's move on to liquid fertilizers. From my experience, organic and non-organic liquid fertilizers are pretty similar in their usefulness. While many people argue that organic fertilizers make the buds taste better, but from my experience, both will grow healthy plants and potent buds.
With liquid fertilizers, you'll need to mix it in with your water each time you use it. This can make it more of a hassle to work with, but there are benefits to this as well.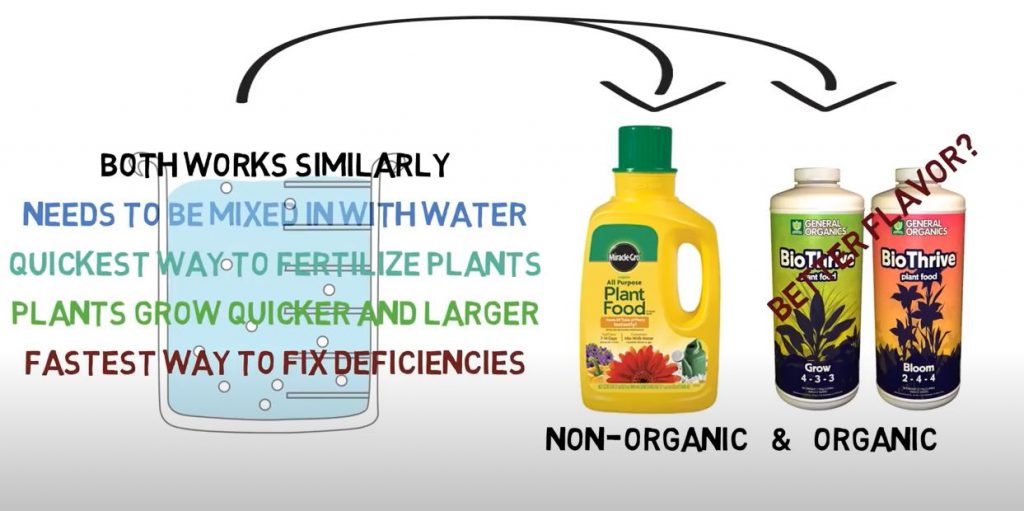 First of all, because the fertilizers are in liquid form, this is the quickest way to get the exact amount and ratio of fertilizer you want into the plants. Because of this, plants using liquid fertilizers generally grow faster and larger than any other option. Also, if there's a nutrient deficiency in the plant, using liquid fertilizers is the quickest way to correct this. Just be sure not to over-fertilize as it's really easy to do so when working with liquid fertilizers.
Types of liquid fertilizers
There are two types of liquid fertilizers, depending on the life cycle of the plant. From a seedling to a vegetative stage, you'll want to use a grow fertilizer that is high in nitrogen for plant growth and healthy leaves. When the plant is in the flowering stage, you'll need to switch to a bloom fertilizer high in phosphorous for flower and bud growth.
If you're on a budget, cheap generic grow and bloom fertilizers such as 'Miracle-Gro' will get the job done. They're not as customizable or organic as a lot of the more expensive options, but they're easily accessible, and the plants I've tested them with all came out fine.
But if you're not on a budget, then you should use 'GENERAL ORGANICS GO BOX,' which is an excellent middle-ground between cost and quality. It comes with a large grow and bloom liquid fertilizer bottle that's enough to feed about ten or more plants. The box also has supplemental nutrient bottles that help with different nutrient deficiencies and issues should they arise.
I wouldn't recommend the high-end liquid fertilizer options to new growers. Between the high costs and complexity of possibly having a mix of your own combination of nutrients each time, it's just not worth it.
How much fertilizers do you need to use?
Now, as for how much fertilizer you'll want to use, I'm not going to go over each nutrient's exact amounts. For the average growers, that information isn't useful, and it varies from plant to plant. As long as you follow the instructions from the fertilizer packaging, there should be no issues.
For generic fertilizers, you'll want to use ones recommended for general plants and vegetables. Other than the names on the fertilizer products, the easiest way to identify a grow fertilizer is to look for the percentage of the main three nutrients, nitrogen, phosphorus, and potassium on the packaging. As long as the nitrogen number is at least the same if not higher than the other two numbers, then it's a grow fertilizer. You can use it from the seedling stage until you decide to flower the plant. If phosphorus is higher than the other two, then this is a bloom fertilizer that you want to use when you start to flower your plant until harvest.
As for dosage, follow the instructions on the package. Instead of using a full dose, I would recommend starting with 25% of the dosage when the plant is a seedling up until your plant is in the vegetative stage. From there, I'd recommend upping the nutrients to 50% for the rest of the grow unless the plant shows signs of malnutrition.
Finally, when switching from a grow to bloom fertilizer, you should spend a little time transitioning between the two by using half and half of each for about a week before completely switching to the bloom fertilizer.
What to do if your plant is showing signs of malnutrition?
If your cannabis leaves are yellowing from the bottom up at a fast pace, that means the plant is pulling nutrients from leaves due to lack of nutrients.
Before upping the fertilizer amounts, this is when you should test the water first to see if it's malnutrition or if it's a nutrient lock in the plants. It is because each nutrient has a pH Goldilocks zone where the roots can absorb the nutrients. If the water is too acidic or too alkaline, then the roots won't be able to absorb certain nutrients.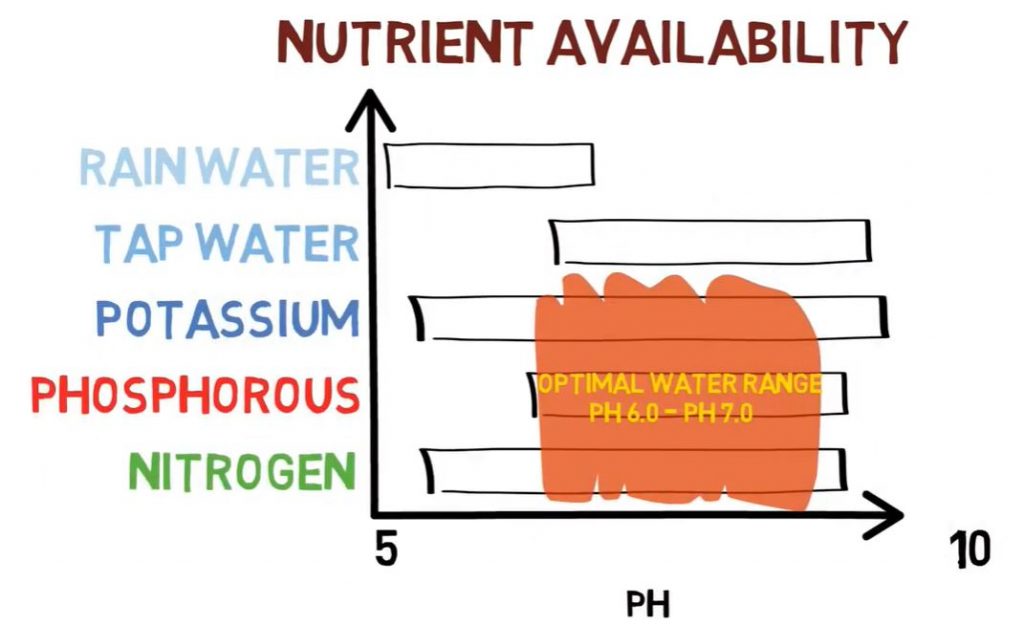 In the chart above, you can see that all three essential nutrients have different Goldilocks zones. There's considerable overlap between the three, which conveniently is mostly within the range of tap water as well, but as you can see, the upper and lower limits of tap water could be outside of this range.
pH Test
So you'll need to do two pH tests on the water. The pH of water by itself then the pH of water after adding in your fertilizer feed. If either these are outside the desirable pH range then your plants problem is nutrient lock and you'll want to use pH down or up to adjust the water so that the roots can uptake nutrients again.
Conclusion
Just know that if you bought your soil mix from a store, it should be within the correct pH balance range to grow cannabis. As long as you don't over-fertilize your plants and water correctly, there shouldn't be much salt and fertilizer buildup in the soil. If the water's pH is fine, you should up the nutrients from 50% of the recommended dosage up to 100% to see if that fixes the nutrient deficiency.