LED grow lights are an artificial light source. They are generally electric lights designed to stimulate plant growth by emitting a light appropriate for photosynthesis. The primary benefits of LED over the more traditional light sources are that they significantly reduce heat and power consumption.
For the best possible results and high yield, you might want to try the best LED grow light in the market. There are hundreds of LED grow lights in the market, but not all are right for your grow room. When selecting the best, you need to ensure that it meets each of these criteria, we are going to discuss in this article to produce the highest yielding plants.
If you want the right one, here is the list of top 12 LED grow lights that are best in the business for growing cannabis. If you are a beginner then I would highly recommend that you watch the LED Grow light Buyers's guide video before checking the list.
LED Grow Light Buyers's Guide
Best LED Grow Lights For Growing Cannabis – Review
I am starting this list with the Mars Hydro Reflector. The unique design of reflecting blades enables 720W Mars hydro lights to generate lighting beams that produce the same effects as traditional 960W to 1000W HPS, HID lights.
With designs of separate integrated circuit boards and heat sink, one damaged component will not cause any fatal problem to the whole set.
The high-speed heat dissipating fans work efficiently to cool down the lights and make no noise. You can switch between grow or bloom mode, which provides a full spectrum for veggies flowers and aquatic plants.
Its power cord can be plugged in the daisy-chain socket, and you can add another module to it.
The fans work quietly, so you don't have to worry about a noisy environment for growing your weed.
On the other hand, these LED bulbs are always cool to the touch, never dim, and will burn strong for years.
Specifications
| | | | | |
| --- | --- | --- | --- | --- |
| | Reflector 240W | Reflector 480W | Reflector 720W | Reflector 960W |
| PPFD Value at 12" | 712μmol/s per square | 1018μmol/s per square | 1202μmol/s per square | 1604μmol/s per square |
| PPFD Value at 15" | 579μmol/s per square | 848μmol/s per square | 970μmol/s per square | 1376μmol/s per square |
| PPFD Value at 18" | 873μmol/s per square | 1200μmol/s per square | 541μmol/s per square | 873μmol/s per square |
| Lumen | 477μmol/s per square | 680μmol/s per square | 4459Lm±5%@AC120V 4325Lm±5%@AC240V | 8803Lm±5%@AC120V 8746Lm±5%@AC240V |
| Effective Coverage | 2'x2′ | 2.5'x3.5′ | 2.5'x4.5′ | 4'x4′ |
| Item Size (inch) | 12″x12″x2″ | 23″x10″x2″ | 28″x10″x2″ | 26″x21″x2″ |
| Net Weight (pound) | 5.51 | 9.92 | 14.77 | 16.98 |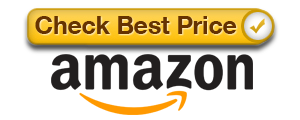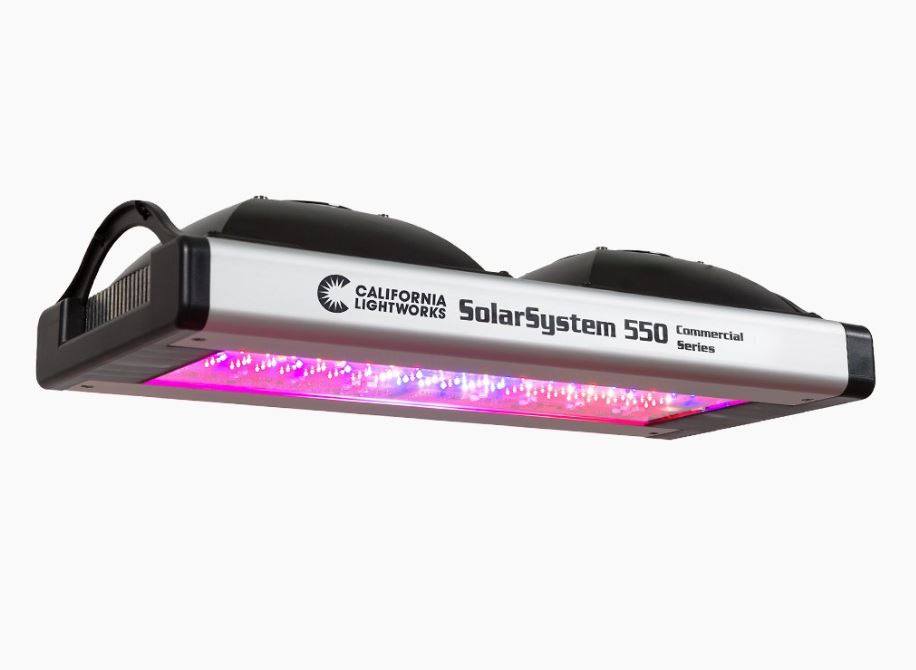 Next up on the list at number twelve, we have the California Lightworks 550. It has high power veg and bloom lights that draw 400 watts that replace a 600W HPS light.
This grill light features fully programming spectrum controls, which enhance plant growth and increases yield. It also has three separate spectrum channels that can be programmed by the day, week, or season to best match natural sunlight.
It operates at a frequency of 50 to 60 Hertz and draws a maximum current of 3.3A at 120 volts, 1.65A at 240 volts. Moreover, the power consumption ranges from 0 to 400W, which is exceptional compared to traditional UVB grow lights.
On the other hand, it provides uniform lighting over a maximum bloom coverage of 3 x 4 feet and a veggie coverage zone of 6 x 8 feet.
This commercial indoor LED lighting system is perfect for a single light in a tent or several hundred in a mass operation.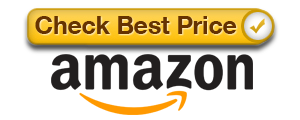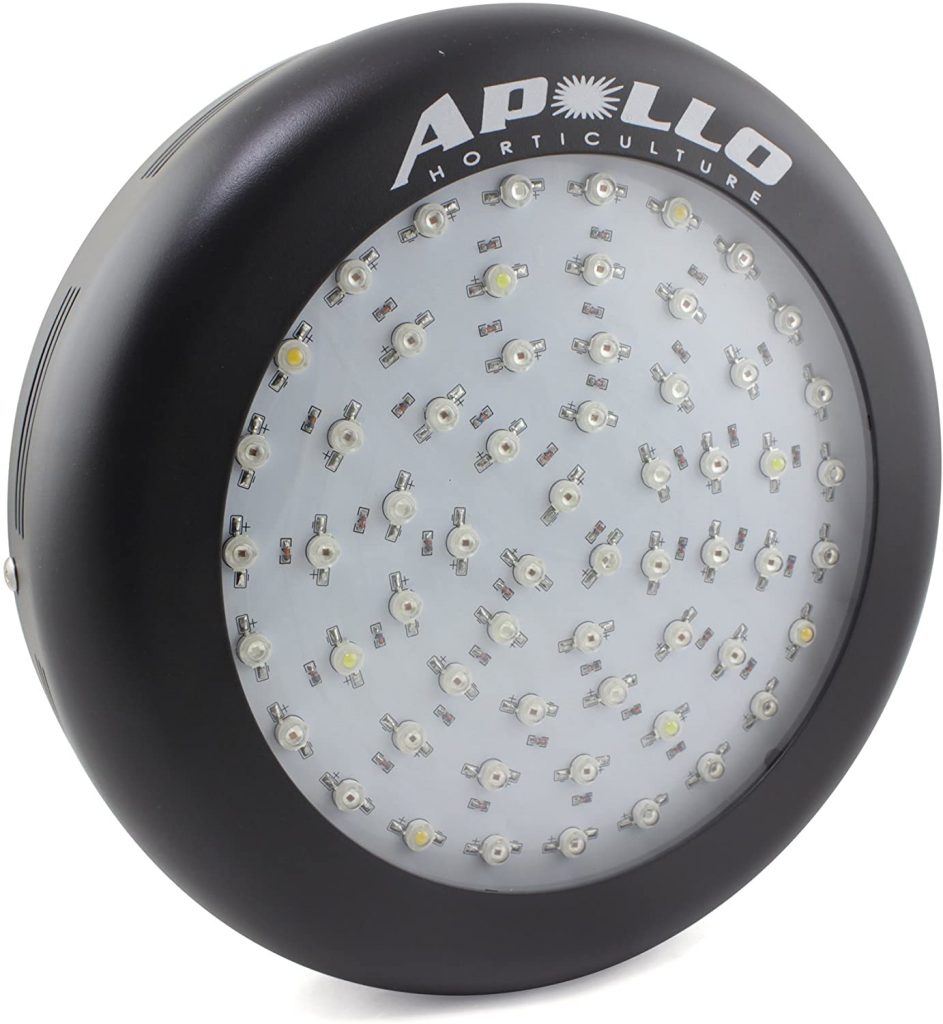 At number eleven, we have the Apollo horticultural GL 60 LED. It comes with an impressive average lifespan of 50,000 hours in a limited two-year warranty. These LEDs are perfect for all phases of plant growth and flowering.
The system is suitable for grow tents, greenhouses, H2O, and most other hydroponic systems. Compared to other grow lights, Apollo horticultural GL 60 LEDs are attractive because they don't require a blast and produce considerably less heat.
It measures 10.5 inches in diameter and weighs just about 5 pounds. With a working temperature range from 0 to 131 degrees Fahrenheit, it doesn't require any extra cooling setups like a cool tube or independent exhaust fan.
Its power cord is roughly four feet in length, so you may have to purchase an extra extension cord if you need more extended reach to the outlet.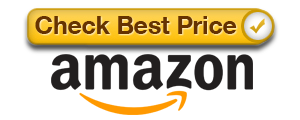 MORSEN GROW LIGHT 2400W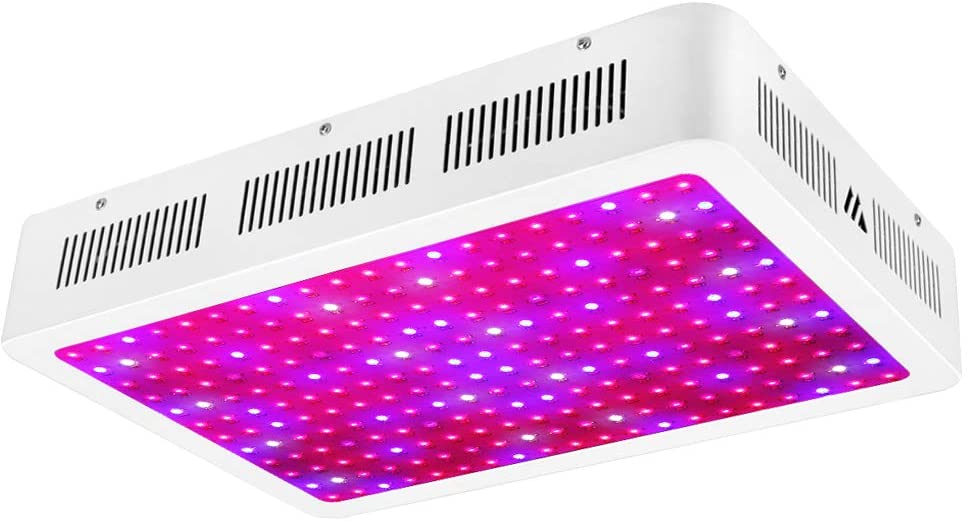 At Number ten, we have MORSEN Grow Light 2400W. It has two on and off switches on the back of the light to control the brightness easily.
This LED light replaces a conventional 2400W HBS grow light while consuming only 450W that saves more than 80% of electricity compared to traditional lights. MORSEN Grow Light comprises super-bright full-spectrum 240pcs 10w dual Chips covering the red, blue, and white ends of the color spectrum.
It has three adjustable light modes to provide suitable light spectrums (red, blue, or both) to your plants through their growing life cycles and get the best yield.
This LED light also uses high-quality semiconductor chips made by EPILEDS that offer the right wavelength of light. EPILEDS's LED chips emit very bright and intense light, and each is fitted with a Zener diode to ensure it functions separately.
Specifications
| | | | | |
| --- | --- | --- | --- | --- |
| | Morsen 1500W LED Grow Light | Morsen 2000W LED Grow Light | Morsen 2400W LED Grow Light | Morsen 3000W LED Grow Light |
| Watt | 1500w | 2000w | 2400w | 3000w |
| LEDs | 150 LEDS double chips | 200 LEDS double chips | 240 LEDS double chips | 150 LEDS double chips |
| Lighting Area | 4x 4.5 Square Feet | 4.5 x 5 Square Feet | 6 x 6.5 Square Feet | 6.5 x 6.5 Square Feet |
| Actual Power Consumption | 270w | 365w | 450W | 560W |
| Item Size (inch) | 16.14 x 8.27 x 2.83 | 13x 13 x 2.8 | 18.89 x 13 x 2.83 | 18.89 x 13 x 3.74 |
| Net Weight (pound) | 7.7 lbs | 11 lbs | 16.7 lbs | 17 lb |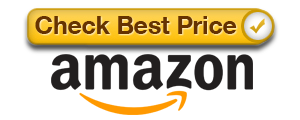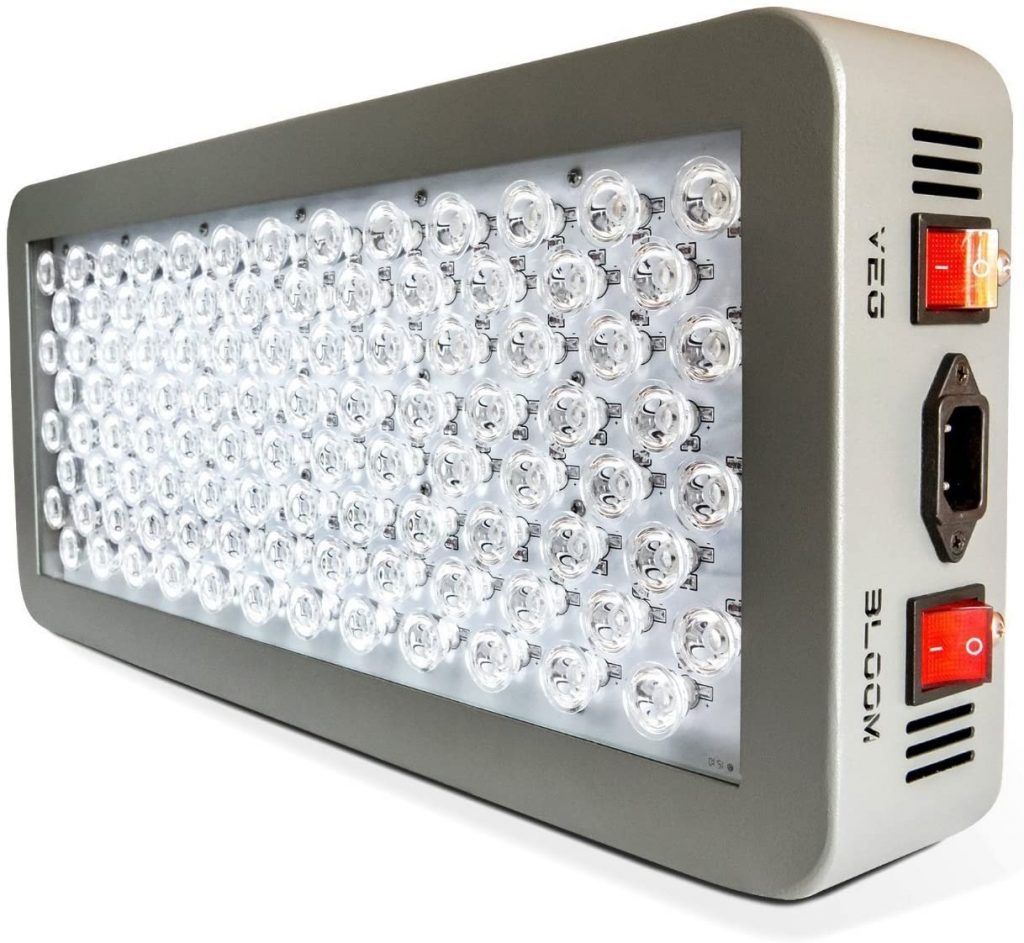 The Advanced platinum series P300 features the highest PAR per watt of any other LED grow light. Along with the complete 12 band spectrum available, the lights ensure maximum yield with minimum power usage and heat.
It effectively replaces a conventional 400W HP grow light while consuming 180W of actual power and giving your plants 100% usable light that's perfectly tuned to create a maximum photosynthetic response.
It also combines an optimal blend of twelve different bands of the complete light spectrum from the depths of UV to the upper IR, given your plants precisely the fine-tuning that they need.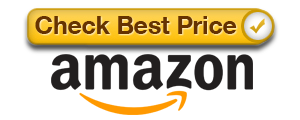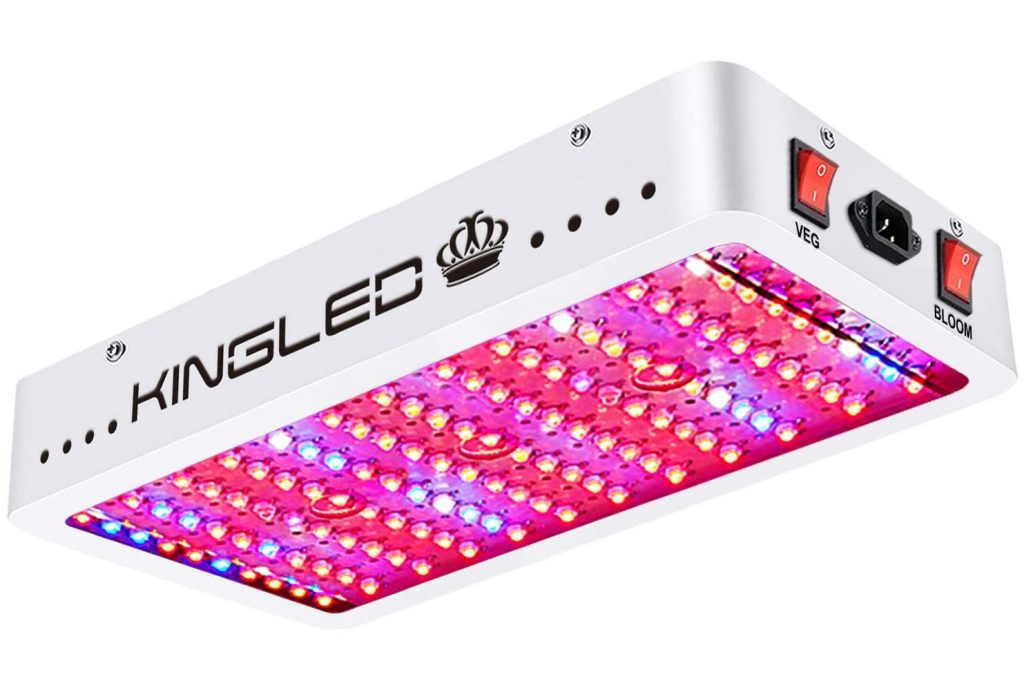 Next up is the King plus 1200W. It is powered by a 10W LED, giving off light equivalent to around 800 to 1000W and has a lifespan of over 50,000 working hours.
This light focuses on providing high intensity absorbing light. Its focusing angles of 90 to 120 degrees help improve light penetration and distribution. Also, the aluminum heat sink and four fans to cool ensure the dissipation of heat, and the plant absorbs 90% of the generated heat.
The LED lights are separated to avoid burning out in case of fluctuation and has three small holes in the glass that dissipate heat. It offers a mode for power saving using 320 to 340W as it provides light with full intensity.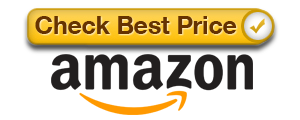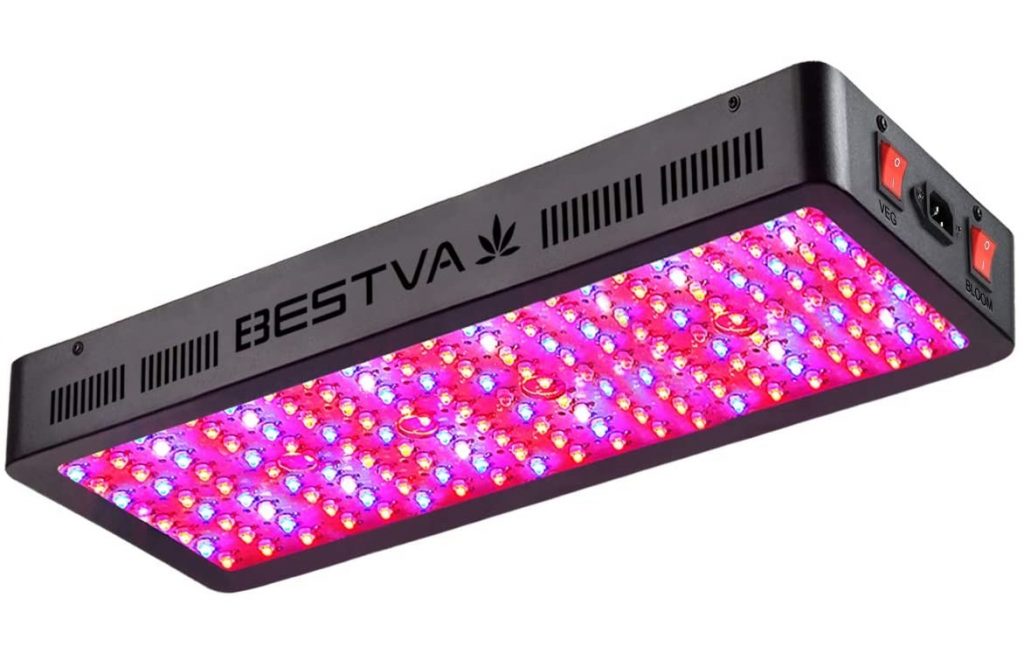 At number seven, we have BESTVA DC Series 2000W LED grow light. It got dual-chip (10W) LEDs, which are much brighter and more efficient than traditional 3W and 5W LEDs.
This light has a 3-millimeter thickness aluminum plate radiator for better heat dissipation. The holes on the aluminum plate and the glass make heat convection run 50 to 60 degrees Fahrenheit lower than any other LEDs.
It also offers twice the coverage area than any reflector series light. Perfect for a 7.8 foot by 7.5-foot growing area and a 24-inch height.
It features the highest PAR and lumen output for LED, making it one of the most effective grow lights of its kind. Moreover, it has two modes, which are veg for cultivating and bloom for seeding and flowering.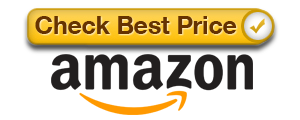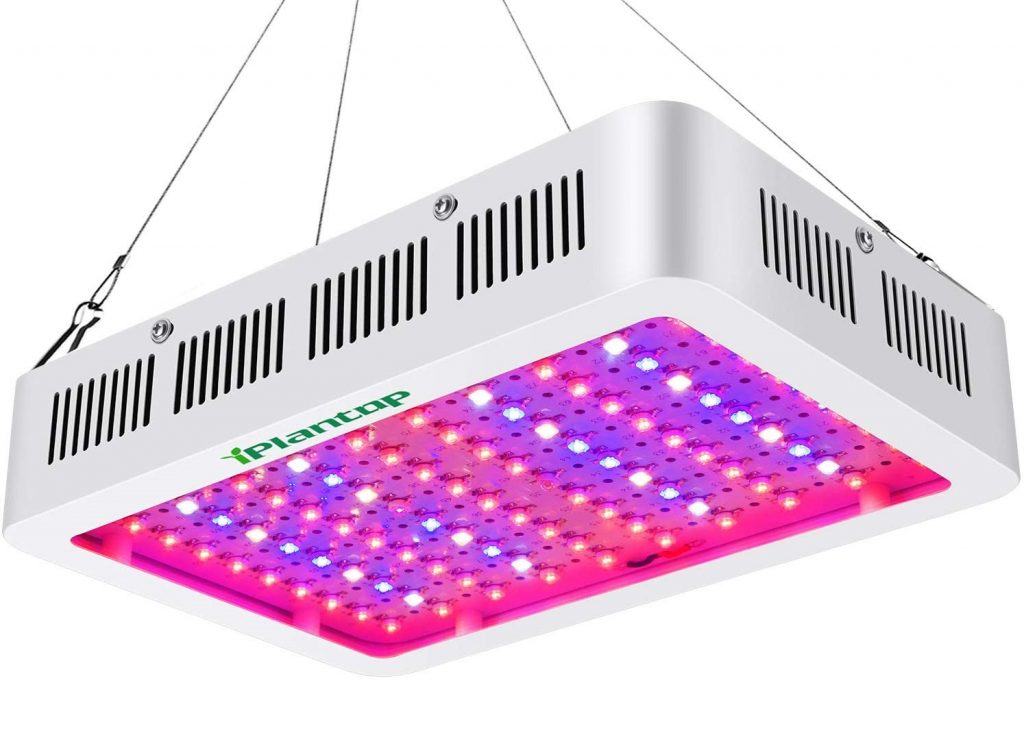 iPLANTOP 1000W LED grow light comes with veg and bloom mode. The veg mode promotes plant germination, and power consumption is 125W. In bloom mode, it helps plant flowering and fruiting and power consumption s 180W.
With super-high PAR value and the upgraded triple-chip LED, it's much brighter and efficient than dual and single-chip LEDs. It is scientifically designed to keep the balance of the PAR and lumen output.
It comes with daisy-chained designs that support more items that connect in parallel simultaneously, one-piece working current 1.5 amperes, input voltage AC85-265V.
The light's core coverage area is 42 by 42 inches, and the maximum coverage area is 65 by 65 inches. It's more scientifically and energy-efficient than HPS, HID, and MH.
The two certified cooling fans and every LED source come with thermal silicon, which keeps the lights calm and quiet, and does not hurt the plants.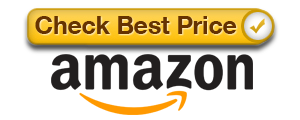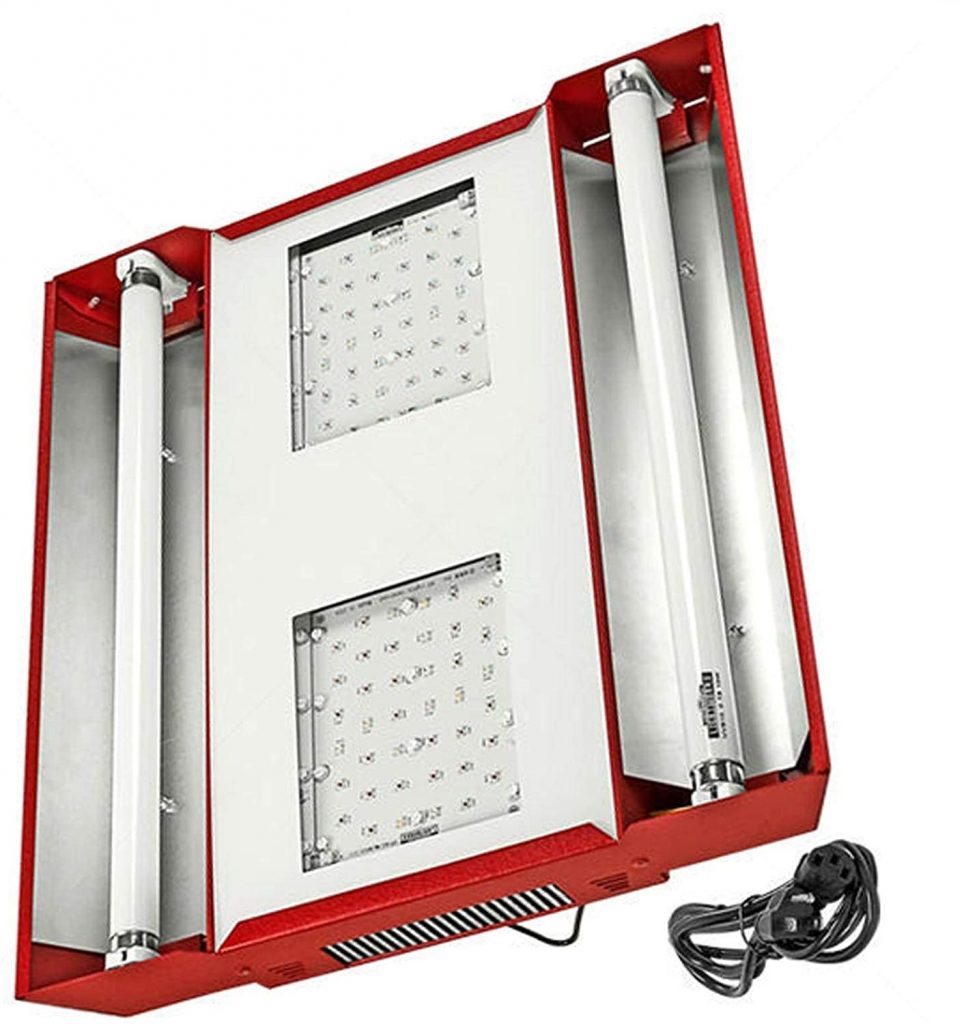 Next on this list, the solar storm 440W is a very powerful LED-based grow light that features 88 Super High Flux 5W LED emitters for a total nominal power of 440W.
It has a switch to change the light spectrum from Veg to Bloom and supplemental built-in UVB bulbs. Switching a light fixture between veg and bloom allows for lush, vegetative growth, and power savings in veg mode while maximizing the intensity and delivering the best yield in bloom mode.
This LED grow light has a unique supplemental UVB mode, which is essential to develop a higher potency harvest. Besides, the UVB bulbs are typically turned on during the final few weeks or finishing phase at the growth cycle to boost the potency of the last harvest.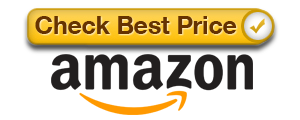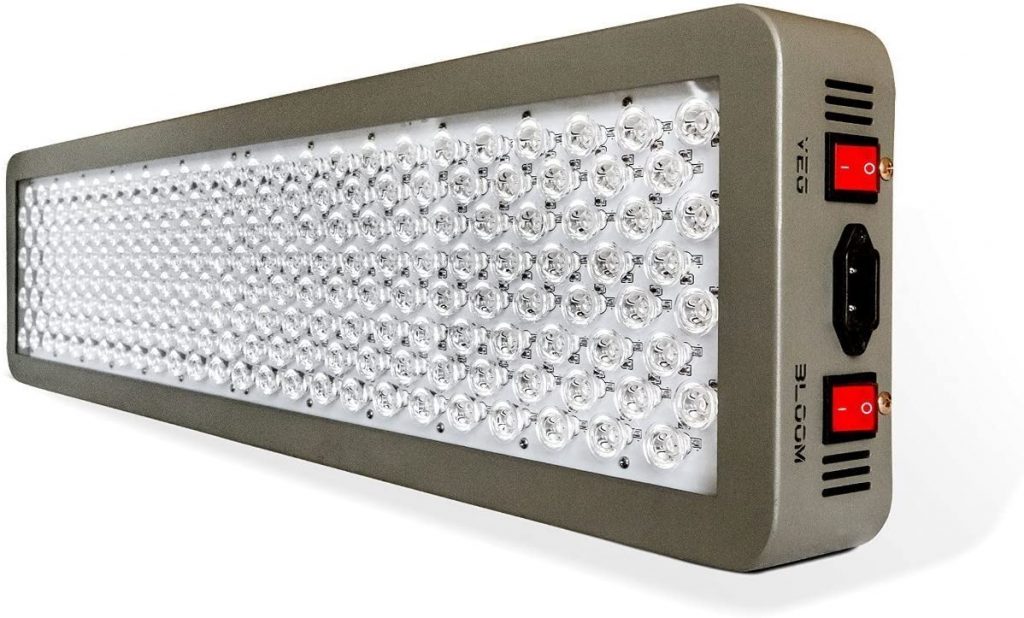 The Platinum LED effectively replaces a conventional 800W HPS grow light while only consuming 368W of actual power. It combines an optimal blend of 12 different bands of the complete light spectrum from the depths of UV to the upper IR and gives your plants exactly the finely tuned spectrum that they need.
It has 90-degree secondary focusing lenses that penetrate deep within the canopy. It's higher output, cooler running, and more efficient 3W LEDs blow away the competition.
Another advantage is the maximum coverage, maximum intensity, and maximum yield is more than 3k watts, which is more than 3000 watts of HPS power and yet can still plug it right into a standard 15A home wall outlet and run cool.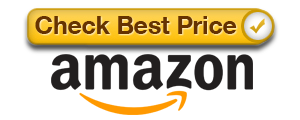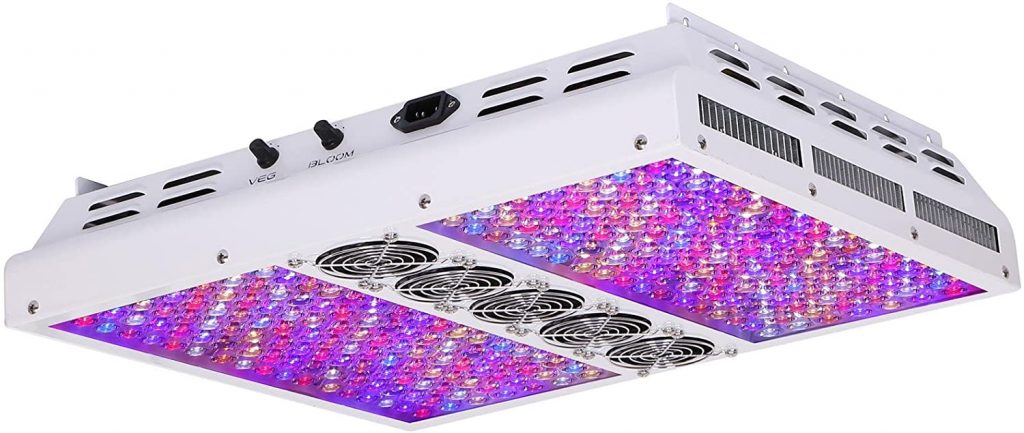 The Viparspectra PAR 1200 provides coverage of areas 4×4 feet for the vegetative phase at the height of 40 inches and 3.5 by 3.5 feet during flowering at the height of 36 inches.
The secondary optical lens magnifies PAR and increases canopy penetration by up to 200%.
It's scientifically engineered to keep the balance with excellent PAR/Lumen outputs and coverage. This design focuses more light on the plants while they're not too concentrated in the middle of the growing area, which often causes stunted plant growth and sunburning.
It provides the plants an optimal full spectrum during the vegetative and flowering stages. It has separate Veg and Bloom dimmer to control the red, white, and blue spectrum individually.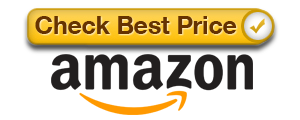 Last but not least, at the top of this list, we have the Electric sky 300 v2 LED grow light. Its full wideband spectrum gives plants the perfect PAR across your entire grow area with spectacular canopy penetration.
Its special dual-direction linear optics focus light away from your eyes and onto the plants. The larger distributed LED footprint gets the light 12 to 15 inches from your plant canopy so you can grow higher and wider in tight spaces without burning or dead zones.
It comes with full-body heat sinks that remove unwanted noise and heat. Also, this LED grow light works well for blooming and vegetative growth phases while using half the energy compared to HPS and standard lights.
One more advantage is the distributed design allows for closed-canopy deployment without burning your plants for maximum headroom.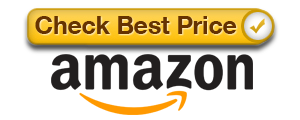 Cannabis Grow Lighting Myths and FAQs