What is Animal Cookies Strain?
Animal Cookies, aka Animal Crackers, is a very potent Indica dominant hybrid marijuana strain. The strain was originally developed and bred by Canadian seed bank BC Bud Depot.
The THC level of Animal Cookies strain can be anywhere from 18% to a whopping 27%. It won several awards, including the first prize in the 2013 High Times Medical Cannabis Cup in Los Angeles. With Animal Cookies strain, BC Bud Depot attempted to improve the potency and yield of Girls Scout Cookies while retaining its characteristics and cookie flavor.
Animal Cookies inherited its uplifting and creative buzz from its parent Girl Scout Cookies strain. It also inherited its herbal flavor and the sleepy, drowsy, relaxed impact that hits with the full force of a runaway train from the other parent Fire OG.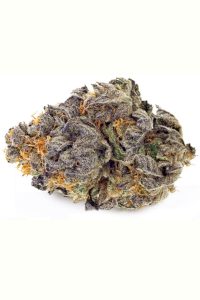 Background and Lineage
Animal Cookies Strain is a cross between the famous Girl Scout Cookies, and the Indica hybrid Fire OG strains that were both carefully inspected and considered to find their best phenotypes.

At the moment, it is a clone-only plant. So, the strain can only be grown by taking cuttings or seeds from existing plants because no one adequately documented the specific phenotypes that were used to produce the cultivar.
Types of High
Animal Cookies strain gives you a hard-hitting high. It hits you fast and hard with rushing uplifting feelings. You will feel euphoric, happy, and positive. Once the blissful, hazy state starts to fade away, you will feel a relaxing body high washing over your entire body. It will lull you into a deep state of ease and calm. This combination of high quickly becomes sedative, and higher doses will lock you to the couch. Users describe this as a body melting experience where the muscles and the joints are relieved of all tensions. Because of its mellow and calming Indica effects, people often take this strain as a sleep aid.
It is an excellent strain if you are looking to winding down on the couch after a long and stressful day and leave your worries behind. Animal cookies strain is best for evening consumption. It is a perfect strain to share with friends on a lazy day or simply if you just want to sink yourself into the couch and forget all your problems.
Go easy on it if you have plans for later and will need to get up and be active.
Medical Benefits
Animal Cookies is very smooth yet very potent, which is why it has gained such popularity in the medical marijuana community. Many patients use Animal Cookies strain to treat several medical conditions.
Pain Relief
Medical grade Animal cookies strain has THC levels as high as 27 percent, which makes it a reliable pain reliever. It can also have CBD levels as high as 4 percent, which can help relieve all kinds of muscle and joint pains. Patients with inflammatory pain, such as Carpal Tunnel Syndrome and arthritis, received relief by using this strain. It can also reduce neuropathic pain, such as peripheral neuropathy, fibromyalgia, and shingles caused by the chickenpox virus.
Depression
Animal Cookies strain gives you a quick cerebral mood boost that can last several hours. That is why this strain is effective for mood disorders such as anxiety, depression, or chronic stress. Always seek medical advice before trying to self medicate.
ADHD
The sedative and relaxing effects of this strain can be useful in treating ADD and ADHD. Because of the strain's high CBD levels, doctors often recommend Animal cookies strain for treating some types of seizures.
Nausea
Animal Cookies is a great strain to treat Nausea because of its delicious flavor. The taste alone helps to dismiss the threat before, the cannabinoids bind to the brain receptors to shut down the signal of Nausea that goes to the brain. Nausea can be a common side effect of cancer treatments, such as chemotherapy and radiation. So patients find this strain helpful to regain a healthy appetite after chemical treatments such as radiation and chemotherapy.
Lack of Appetite
Animal Cookies strain has a great reputation for restoring appetite to those who have lost too much weight due to illness. It can help the patients with conditions like cancer and HIV who don't have enough appetite to eat to maintain a healthy weight to improve their chances of survival.
Stress Management
Animal cookies strain provides both head and body high. The heavy-bodied sensation and sense of euphoria are relaxing enough to alleviate most forms of stress, making it a great chronic stress management tool for the people who seek a little aid to relax their minds.
Insomnia
As a true descendant of the sedating Fire OG strain, this strain is also helpful for the people who suffer from sleeping disorders. For this reason, doctors have widely prescribed this strain to patients who have insomnia.
Adverse Effects
All cannabis strains have some common adverse effects. The high THC content makes Animal cookies a super potent strain. For that reason, the same reactions resulting from marijuana use seem to be more pronounced.
People love Animal cookies strain for its minimal side effects for a strain that is quite so potent. It will rarely make you feel dizzy or paranoid, but these should only occur when you smoke or consume it in large doses.
Like other marijuana strains, Animal Cookies can cause a sense of feeling dehydrated, making your mouth feel dry. You may also feel like your eyes are dry and itchy.
Growing Animal Cookies Strain
Animal Cookies strains can be grown as clones, from the clippings taken from mature plants. Alternatively, you can also purchase seeds online from the breeder BC Bud Depot.
If you are growing strains for the first time, this is may not be a perfect strain. Animal Cookies is a pretty tough strain to grow and is recommended for more experienced growers.
You can grow the strain outdoors, but it is preferred to be cultivated indoors where you can have more control over the environment. Like other Indica dominant strains, Animal cookies strains need regular trimming and proper ventilation.
Growing Indoor
When grown indoors, Animal Cookies reaches the flowering stage within 9 to 10 weeks and offers a higher than average yield. These plants thrive in dry weather with good airflow and ventilation. Make sure to trim any broad fan leaves growing near the top of the plant, to allow light and air circulation to the lower branches and flowering nodes.
It is a very pungent strain, even in the vegetative stage. If you would like to keep your operations discreet, you will need to put odor control measures in place like carbon air filters.
Growing Outdoor
Growing Animal cookies strains outdoors needs to be done by professionals who can strictly control all environmental conditions. The plants will require a sunny, hot, dry environment to flower. Flowering time is September, and you can expect around 14 ounces per plant of delicious tasting weed.
Quick Reference Guide – Animal Cookies Strain
Type
Indica dominant hybrid cannabis strain
Lineage
GSC and Fire OG
Appearance
The nugs look like medium-sized popcorn with a dense bud structure. Leaves are a yellowish-green with subtle purple hues and orange pistils. Sticky buds are covered in white to cloudy amber trichomes that give the leaves their yellowish appearance.
Smell
Earthy, Herbal, Nutty, Pungent, Sour
Taste
Herbal, Nutty, Creamy, Sweet
Preferred Consumption Time
Evening, Night
Preferred Consumption Method
Smoke, Vaporize
Similar Strains
Original Glue
Monster Cookies
Death star
Concentration and Potency
| | |
| --- | --- |
| Indica/Sativa Percentage | 75%:25% |
| THC Percentage | 27% |
| CBD Percentage | 1% |
| Effects | Body High, Euphoria, Happy, Relaxing, Sleepy |
| Duration of Effects | 2-3 hours |
Effects
Feelings
Relaxed
Happy
Euphoric
Uplifted
Sleepy
Helps with
Stress
Pain
Nausea
Depression
Insomnia
Negatives
Dry eyes
Dry mouth
Headache
Paranoia
Dizzy
Cultivation & Yield Capabilities
| | |
| --- | --- |
| Growing Difficulty | Hard |
| Disease Resistance | Moderate |
| Flower Develop | 9-10 weeks |
| Plant Height | 1.9 meters |
| Indoor Yield | 11 ounces per square meter |
| Outdoor Yield | 13 ounces per square meter |
| Outdoor Harvesting | September |