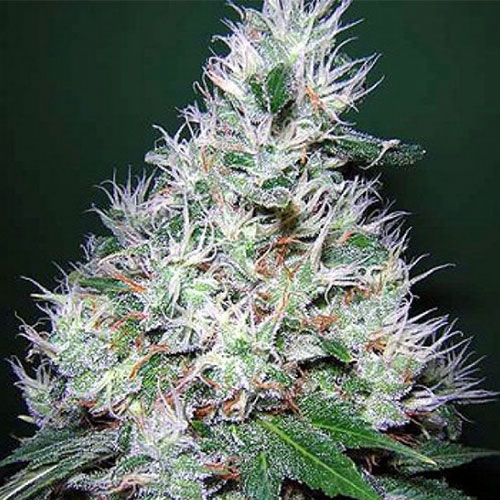 What is The Banana Split Strain?
Developed by the Crockett Family Farm, this wonderful hybrid strain was grown by crossing the Tangie strain, with the Banana Sherbet strain. The end result is a perfect after-dinner treat.
Fans of the strain swear by its whole body sedative effect that can last for hours. Thus making Banana Split more of an end of the day strain than something you would use when you have a busy day ahead of you.
---
Lineage
The Banana Split strain was first developed by crossing the Tangie with the Banana Sherbet strains.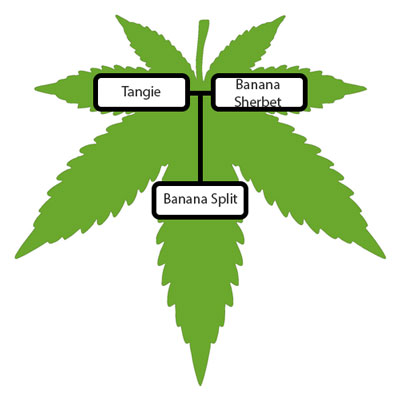 ---
The Flavor Profile
The taste and aroma is a tricky one to pin down for this particular strain. There are hints of sweet fruity and tropical tones, with underlining bitter and sour almost chemical notes.
---
Growing Banana Split
The Banana Split strain is a relatively easy plant to grow. It responds well to most conditions and can be grown both indoors and outside with minimum effort.
The strain may become more difficult to grow indoors though. It depends on how you treat the plant in order to encourage more yields. Various growers have found that just because something works well outdoors, may not produce the same result indoors.
If you are new to growing, or new to the Banana Split strain itself, we suggest that you start by simply growing and managing the plant as it is. If you find the yield not to your liking, then experiment a little with the different cutting techniques and find which works best for yourself.
---
Flowering
The buds of the Banana Split grow in large and frosty areas. Growing the plant outside takes 8-9 weeks for the flowers to develop, which can yield up to 18oz per m².
If you choose to grow the plant indoors, flowering can take up to 3 weeks longer and may yield less, approximately 14oz per m².
---
What Gives Banana Split its Strong High?
The heavy sedating effect of the Banana Split strain is caused by its high levels of THC. With an average level of 25% THC, sometimes as high as 27%, Banana Split starts by affecting the back of the head, before making its way down to the toes, relaxing the whole body.
The effect can be so strong, that you could easily find yourself couch-locked for a few hours. Banana split is notorious for giving people the munchies.
---
Conditions Banana Split is Commonly Used to Treat
Whether it's through self-medication or under advisement, many people have taken to using Banana Split to treat several medical conditions. The success rate or effectiveness of Banana Split is open for debate. But based on user testimonies, here are a few of the conditions people have treated with Banana Split and their average effectiveness.
1) Loss of Appetite
Banana Split is well known for inducing a strong 'munchies' effect. As it also induces a strong couch-lock, it would be wise to have food and drink at the ready.
Can be rather effective: 7
2) Depression
Many users who suffer from depression, have found that Banana Split can be very effective at providing a calming and relaxing effect.
If you do suffer from depression, it is best to first seek medical advice before trying to self medicate.
Can be highly effective: 8
3) Fatigue
Banana Split is the wrong strain to use for fatigue. It has a strong sedating effect, not an invigorating one.
Not effective at all: 1
4) Pain Management
There are many types of chronic pain, from nerve pain to soft tissue, and even pain caused by cancer. For this reason a simple yes it works, or no it doesn't isn't a fair assessment. As such we will assume that the pain in question is acute, meaning short term, soft tissue damage caused by a sprain, impact, or broken bones. In this regard, yes most users have found temporary relief from using banana split for pain management.
Highly dependent on the mindset and condition of the individual, as such, it can be effective.
5) Insomnia
Banana Split has a very strong couch lock effect. If food is kept nearby to counter the munchies, most users have found that they can use Banana Split to help them drift off to sleep.
Can be rather effective: 8
6) Relieving Stress
One of the biggest benefits for the majority of consumers is the calming effect that Banana Split has on most of us. The accompanying sense of Euphoria is relaxing enough to alleviate most forms of stress, even if only temporarily.
Can be highly effective: 8
7) Anxiety
Even though Banana Split can have a relaxing and calming effect, it can also stimulate the brain. This is counterproductive for anxiety as thoughts can start to race unchecked.
If you do suffer from anxiety, it is best to first seek medical advice before trying to self medicate.
Not very effective: 2
8) ADHD
Attention deficit hyperactivity disorder results in poor concentration and a lack of self-control, and impulsive behavior. Thankfully it can be managed naturally with the help of Banana Leaf. Each person will still need to be assessed on a case by case purpose, but the option for a more organic treatment is available.
Highly dependent on the extent of an individual's condition, as it can be effective.
---
The Adverse and Negative Effects of Using Banana Split
Aside from the negative repercussions that can come from overuse or abuse of any substance, Banana Split is just as safe to use as any other cannabis strain. Other than a very high chance of Dry Mouth, responsible consumption of Banana Split has relatively low risks for the following effects:
Dry Eyes
Dizziness/Disorientation
Paranoia
Anxiety
Headaches
---
Quick Reference Guide (Banana Split Strain)
Cultivation Details
Growing Difficulty
East Outdoors
Moderate Indoors
Parentage
Tangie
Banana Sherbet
Growth Height
Medium
Bud Growth
Large and Frosty
Trichomes
Plentiful
Flowering Type
Photoperiod
Yield Capabilities
Flower Develop
Within 8-9 weeks Outdoors
Within 9-11 weeks Indoors
Indoor Yield
Medium – 14oz per square meter
Outdoor Yield
Large – 18oz per square meter
Outdoor Harvesting
October
Pallet
| | |
| --- | --- |
| Fragrance/Aroma | Sweet Fruit, Sour Chemical |
| Flavor Profile | Tropical, Spicy, Sour Citrus |
Concentration and Potency
| | |
| --- | --- |
| Sativa: Indica Percentage | 60% : 40% |
| THC Percentage | 24% common, as low as 20% |
| CBD Percentage | 1-2% |
| Duration of Effects | 1-3 Hours |
Effectiveness as a Treatment
| | |
| --- | --- |
| Loss of Appetite | Moderately |
| Depression | Very Effective |
| Fatigue | Not Effective at All |
| Pain Management | Situational Low-Highly Effective |
| Insomnia | Very Effective |
| Stress Relief | Very Effective |
| Anxiety | Not Very Effective |
| ADHD | Situational Low-Highly Effective |
Risk of Adverse Effects
| | |
| --- | --- |
| Dry Mouth | Highly Likely |
| Dry Eyes | Low Risk |
| Dizziness/Disorientation | Low Risk |
| Paranoia | Low Risk |
| Anxiety | Moderate to High Risk |
| Headaches | Low Risk |