Are you still breaking up your weed by hand and tired of the mess? Then you should try an electric weed grinder. Electric weed or herb grinders are also great for patients with hand issues such as carpal tunnel syndrome, tremors, fibromyalgia, or arthritis.
In this article, we have put together a collection of 10 best electric weed grinders that are available on the market right now.
Best Electric Weed Grinders
Mamba Electric Herb Grinder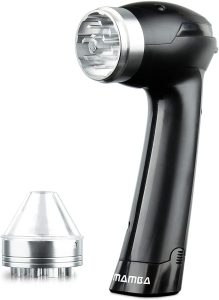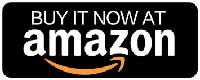 Pros
Faster and easier grinding
Perfect grinding every time
Compact and portable
Powerful motor
Funnel attachment for easy packing
Easy to use
Can be operated with one hand
Easy to hold for sufferers of hand RSI, wrist strain and Fibromyalgia
Cons
Does not have a kief screen
Grinds only half gram at a time
Review
If you have a real hand issue, then you will love Mamba battery-powered premium electric Herb grinder. It is perfect for one-handed operation. This two-piece grinder comes with a funnel attachment that goes on the top, makes it easy to dispense ground cannabis strains accurately in a cone, bowl, or a vaporizer chamber.
The Mamba grinder is durable and easy to use. The powerful motor and forward/reverse switch allows it to grind any types of weed.
The Mamba electric grinder is professionally engineered and made from top-grade components. The aircraft-grade aluminum teeth are very sharp and durable and grind tough herbs without worrying about breaking anything.
It operates off four AA batteries. The slender, hand-held design makes it easy to carry and store it anywhere. Mamba grinder grinds herbs really well and fine.
How it Works
Wakit Electric Herb Grinder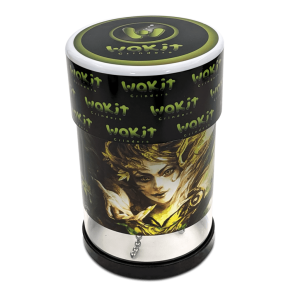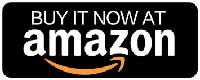 Pros
Fast grinding
Easy to use
Rechargeable lithium battery
Do not grind the thick stems
Easy to clean
Works great with sticky herbs
Cons
Makes a little mess after grinding
Inconsistent grind within batch
Review
Wakit Electric Herb Grinder is the world's first ball and chain weed grinder. It grinds really fast in a very effective way.
Place your cannabis strain on a tray and put the Wakit grinder on top of them, and push down the top. Tap it once for a coarse consistency. The more you tap it, the finer it gets.
Tapping the Wakit cap activates a drone motor housed inside the unit. A single beaded chain is attached to the touch-activated drone motor. When the chain spins, it creates a vortex and shaves the herb from the thick stems and creates the perfect texture. Wakit electric weed grinder grinds sticky, moist, or dry strains effortlessly.
It is also very easy to clean. You can use a moist towelette to clean the herb chamber.
How it Works
KRUPS Silent Vortex Electric Grinder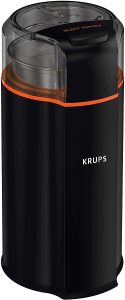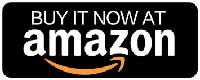 Pros
Very powerful
Grinds in large quantity
Doesn't make too much noise
Detachable grinding bowl is very easy to clean
Cons
Kief is hard to remove
Powerful blades can over-grind the herb
Review
KRUPS is a German brand and expert in coffee and food preparation since 1846. They produce very high-quality products.
The Silent Vortex 3-in-1 Grinder is very quiet and grinds your herbs in seconds. It has very powerful blades, so if you grind your herbs for too long, they can turn into dust. It doesn't have a kief catcher or screen, so the kief can get stuck inside the grinder. The grinder has a large-capacity, dishwasher safe grinding bowl, so it is very easy to clean. You can grind in large batches. It includes a dedicated storage lid to store your freshly ground herbs in the grinding bowl.
As it says in the name KRUPS Silent Vortex Electric Grinder is very quiet.
How it Works
Easy Grinder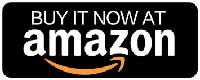 Pros
Grind up to 2 grams of herbs at a time
Clear glass chamber allows you to see inside
USB rechargeable
Battery indicator
Compact and portable
Easy to dispense
Comes in various colors
Cons
Need to be cleaned regularly
Difficult to grind sticky herbs
Review
If you are still using an old coffee grinder to grind your weed, then you should try Easy Grinder. There is nothing wrong with a good old coffee grinder, but they are not portable and can be very messy.
Easy Grinder Clear is the modern way to grind up weed. The glass chamber can fill up to 2 grams of herbs, and you can see how much you're grinding without guessing. Just watch them get ground up and control how fine or coarse you want them to be.
The easy grinder is very easy to use. Remove the tip and fill the chamber with up to 2 grams of herbs. Once the chamber is full, and the magnetic seal is locked, press the button on this device to start grinding. The longer you hold the button, the finer your herb will be.
Dispense as much or as little you would like with the dispenser tip.
The easy grinder is small, yet powerful and has many features that you cannot get from an old coffee grinder. It comes in various colors. It is USB rechargeable, so you can charge it every few months and never have to worry about replacing batteries.
How it Works
Electric Herb Grinder By CYPHRTECH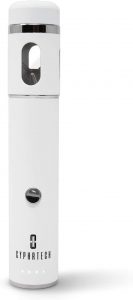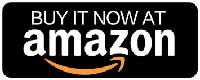 Pros
User friendly design
Very discreet and compact
Long battery life
Powerful electric motor
Display window
Cons
Grinder works better with chunks
Require cleaning after use or it gets sticky inside
Review
CYPHRTECH Electric Herb Grinder is very similar to the Easy grinder. It has a very powerful electric motor that allows you to grind to any consistency with ease. The metal blades are sharp enough to chop through any herbs.
CYPHRTECH Electric Herb Grinder is very easy to use. You can complete all functions with one button. You don't need to worry about safety as the blades cannot spin until the chamber is locked.
It comes with a long-lasting battery. This rechargeable electric herb grinder can be used 60 times or nearly a month straight on a fully charged battery.
Sleek looking CYPHRTECH Electric Herb Grinder is compact and fits in your pocket easily. It has a clean design that is sure to impress all your friends while staying under the radar when you need it to be.
OTTO – Electric Smart Herb Grinder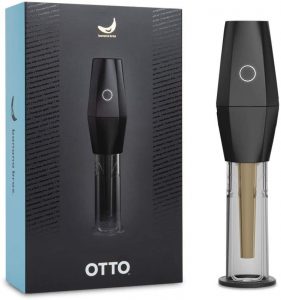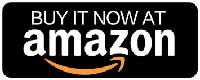 Pros
Directly grinds into paper cone joints
Great for grinding all types of herbs (wet, dry, sticky)
Grind really well
Perfect consistency every time
Very easy to use
Good battery life
Great for patients with hand issues
Review
OTTO is the first and only automatic cone filling machine. It works well with all types of herbs. So, whether your material is sticky, moist, dry, or full of stems, it gently grinds and fills a perfect cone every time at the touch of a button.
Unlike traditional grinders that unevenly crush and get jammed, OTTO's precision-engineered milling blades automatically adjust pressure, speed, and direction based on the texture and consistency of your herbs. The result is superior flavor and consistency.
How it Works
Cuisinart Electric Grinder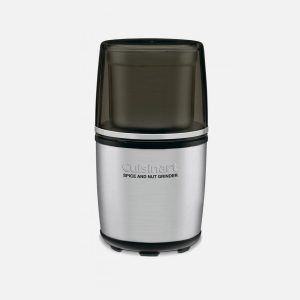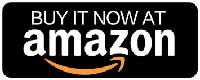 Pros
Durable
Heavy duty motor
Bowl can hold 90 grams
Dishwasher-safe lid and bowl
Easy to use
Cons
Not portable
Blade is not airtight so the kief can get stuck around and inside the grinder
Review
Cuisinart electric grinder weighs just a little over 2 and 3/4 of a pound and is less than 8 inches tall, so it's lightweight and small enough to be stored in a cabinet or sit on your countertops. The body is stainless and comes with an interlocking stainless grinder cup that holds a little over three ounces and easily attaches to the unit. There's also a lid for storage after you finish grinding your herb spice. It also has a grinder lid that works with the unit, so it won't start unless the grinder cup is securely in place.
It has a one-touch operation. Whether you prefer your herb to be coarse or fine, press down on the lid until you get to desired consistency, and the best part is that the grinder cup and the lids are dishwashers safe.
How it Works
Chewy Grinder 2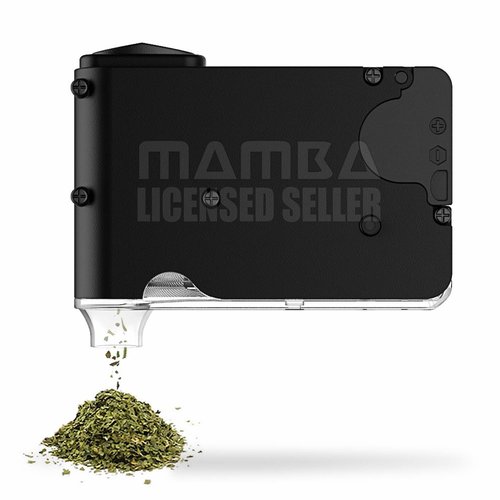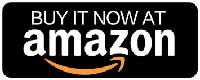 Pros
Easy to use and clean
Compact and Portable
Non sticky inner parts
Spring loaded trigger system makes it easy to load herbs
Dispense nozzle packs bowl, joint or blunt without a mess
Cons
Grind in small amounts
Hold only up to 3 grams of herbs
Review
Chewy Portable Battery 420 Herb Grinder is the world's first truly portable electronic herb grinder. It can grind, store, and dispense herb for you. Its slim-line sturdy polycarbonate body can resists knocks and bumps and fits perfectly into your pocket so you can take carry it anywhere.
It is perfect for patients with hand issues. With an easy to hold design and thumb-accessible forward-reverse switch, you can operate this grinder with one hand. A perfect pouring spout allows for precise pouring, so you get your grind exactly where you want it.
Chewy has a large spring-loaded chamber that is capable of holding up to 3 grams of your favorite strain, so you always have some to hand when the time strikes. Grind your desired amount, then save whatever you have left for later.
It is powered by a 9V battery that can last for 9 hours of continuous use.
Chewy has perfected herb grinding. It creates a consistent, fluffy grind every time!
How it Works
Electric Tobacco Shredder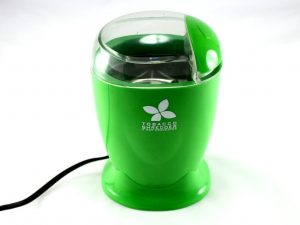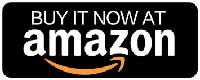 Pros
Grind large amount up to 10 grams
Powerful motor
Grinds really fast
Not too noisy
Cons
No kief catcher
It can over grind if power button is held too long
Review
This little electric tobacco shredder is perfect for grinding cannabis strains. It comes with high powered blades to make the grinding job easy. It can easily handle up to 50 grams of herbs at any given time, allowing you to grind quite a substantial amount of material at a time.
You can watch the entire grinding process through the clear top window and control the consistency of your grind. Once you finish grinding, turn off the grinder and open the chamber for easy removal. It does not come with a kief catcher. Instead, it accumulates them under the lid and around where the cover sits.
The Electric Tobacco Shredder delivers the most efficient and mess-free grinding experience compared to other electric herb grinders on the market.
Freetophome Electric Herb Grinder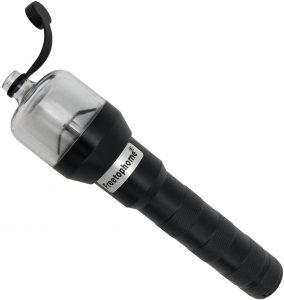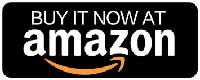 Pros
Easy to carry
One hand operation
Powerful motor
Tough and reliable
High speed grind
Cons
Dispenses slowly
Grind adjustment ring can be difficult to turn
Review
Freetophome Electric Herb Grinder is very affordable. It uses premium aluminum alloy material. Designed for one-hand operation, so it is perfect for patients with hand issues.
Break the weed in little chunks instead of putting the large piece before grinding to avoid the blade to get stuck, which can cause the motor to stop working. Other than that, it is a very compact, easy to use weed grinder.
It also features UBS charging, which allows you to charge it with your phone or tablet when you cannot access any power outlet.
Verdict
There are varieties of electric grinders in the market to grind your cannabis strains. They come at varying price points and with various features and capabilities.
We have tried and tested the above ten electric grinders to provide you an informative suggestion. I hope this review will be helpful for you to choose the best electric grinder.
Frequently Asked Questions (FAQs)
Should I get an Electric Grinder?
When it comes to cannabis grinders, there are many kinds and varieties. We will break it down into categories, so you understand the difference and choose the right one for yourself.
Budget Grinders
Budget grinders are very cheap and mostly made out of plastic. These grinders do not have sharp teeth. They usually have some kind of spikes or nubs that rub against each other and leaves you with some chunky grind.
Mini Grinders
Mini grinders are much like novelty grinders that can come in various qualities. These are very tiny and grinds about a quarter gram at a time. They are perfect if you're on the go or just want to pack a bowl in a small amount. Mini grinders are very hard to turn because they are tiny to hold on.
Premium Grinders
Most premium grinders have a kief screen at the bottom and often come with a kief scraper and have a clear top. They have sharp blades that give you a fine grind. The see-through top allows you to check how much you are grinding. Some premium grinders have a crank handle that gives you a better grip on the spinning of your grind.
Electric grinders
Electric grinders are a little controversial to some people who don't understand the need for them. You put the cannabis in the small hopper inside, close it off, and press a button. Then the high-speed blades powered by batteries will turn inside and grind the cannabis for you. A lot of people with carpal tunnel syndrome, or arthritis in their hands find this a lot easier than using a standard grinder where they may not be able to turn them.
Which one of these is the best grinder then?
It all comes down to your needs. For instance, if you're rolling a blunt or a joint, you probably want your cannabis to be a little more chunky or coarse. If you have it too fine, then it will not have good airflow and can be messy when you are rolling a joint. For a chunky grind like that, you can get by with the cheapest grinder or all the way up to the premium grinders, but you don't want to grind too much if you're using one of the better end grinders.
When it comes to bowls or bong, it is pretty forgiving. If you grind it too fine and don't have a kief screen, then you're going to have some trouble with your cannabis falling through. So either you are using a kief catcher and grind it at any consistency that you want, or grind it chunky if you don't have a screen. If you're going to get chunky, then any cheap grinders will do the job.
It is a different story when it comes to vaporizers. Vaporizers are one situation for sure where you want to grind your cannabis fine. You want it finely and evenly ground so that it vaporizes thoroughly through so you don't have the little green spots leftover or the dark chunks on the outside. It also makes it a lot easier to pack it into the bowls. A lot of the vaporizers have small holes. So it's kind of hard to get it in there if you've got big chunky clunks.
So as you can see when it comes to finding the best grinder for your weed, it's tough to say that this is the best grinder for you as it all comes down to your preferences and your needs.
Difference Between Manual and Electric Herb Grinders
There is no difference between an electric and a manual grinder other than the convenience of the grinding process. The electric grinder uses batteries to turn the blades to grind the cannabis, instead of you spinning the grinder manually.
The ease of use and convenience has made electric grinders so popular in a short time.