One of the most common methods of smoking weed is rolling a joint or blunt wrap. Many smokers prefer to use a bowl or a bong to smoke weed because it does not require rolling beforehand, and many stoners also struggle to master the art of rolling the perfect joint.
Fortunately, that is where rolling trays come in.
In this article, we will talk about rolling trays. Personally, in my experience, I did not use a rolling tray for a long time. In my senior years of high school, I used a wooden board, which was supposed to be a cutting board, but I maneuvered it and made it into a rolling tray. I used it for a while in my senior years.
What is a Rolling Tray?
A rolling tray is specially designed to help you roll the perfect blunt or joint and easy to clean afterward. Weed can get stuck easily in regular trays that have actual corners, and very hard to get them out. Rolling trays have smooth and curbed sides, making it easy to scoop up the weed with your finger.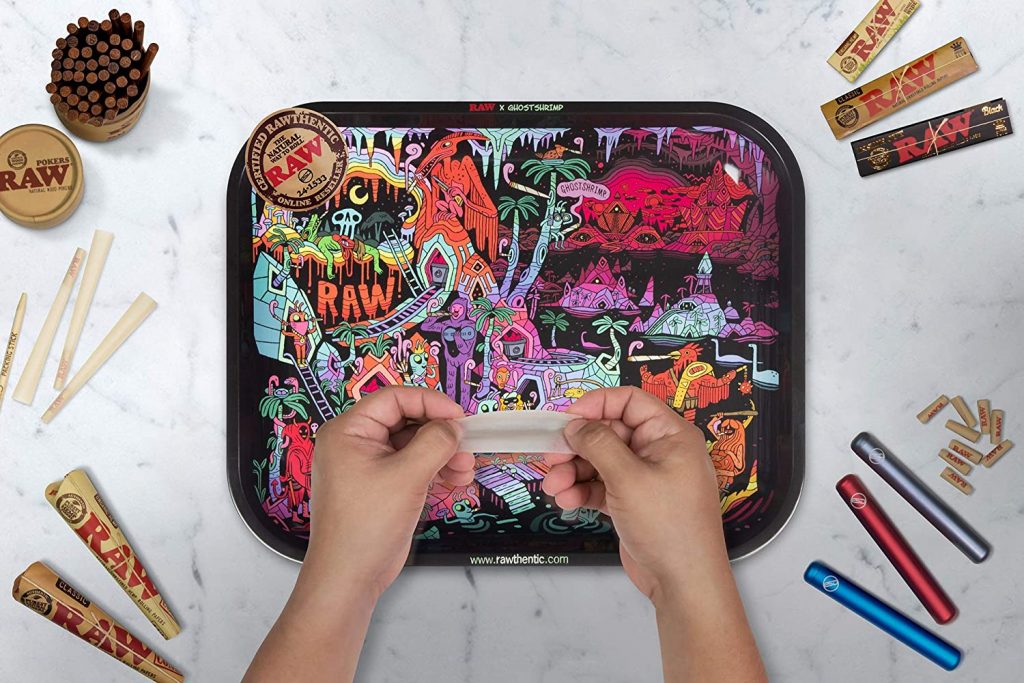 Some rolling trays come with a place to hold your papers for rolling joints, separate sections, and more. You will still need some skill to roll a joint, but a rolling tray certainly makes it easier to master the art of rolling. It provides a large, flat surface that gives you plenty of space to perfect your craft and keeps everything organized right on your lap.
Without further ado, let's check some best rolling trays available in the market.
Best Rolling Trays
Metal Rolling Tray by V Syndicate (T=HC2 Einstein)
Review
The manufacturer of this metal rolling tray is V. Syndicate. The tray is well made and looks fantastic. The picture quality is outstanding and printed in full color and high definition.
It may be small, but it gets the job done and also comes in other dimensions.
The tray is very easy to carry when you are traveling.
It is also effortless to clean and does not require any hard scrubbing. Use some water and your cleaner of choice, and the tray will look like new without any hassle.
Specifications
RAW GHOST SHRIMP Metal Rolling Tray
Review
RAW has collaborated with world-famous artists to create the RAW Artist Series. They teamed up with the one and only American graphic artist Ghostshrimp for this particular rolling tray.
This large rolling tray, measuring at 14inches by 11 inches, can easily accommodate your rolling papers, filters, and tobacco. It is adequately sized and will fit into any drawer or cupboard, keeping all your smoking accessories in one place and, if needed, out of sight. It is also an ideal "travel tray ."
This rolling tray was built for easy maintenance even when used as an ashtray due to its easy maintenance.
The tray is smooth to the touch and can be easily wiped down with a cloth if required. It is surprisingly durable and is 100% non-flexible.
Ghost Shrimp is a limited edition, so catch yours before they sell out!
Specifications
Metal Rolling Tray Pink
Review
This moonlit tray is very pretty and feminine. I like the aesthetics and minimalist attributes, and the occasional vibe. The tray is made with durable metal and a pink part-clear enhanced finish on it.
The thick metal is resistant to bending and warping. Its curved edges stop any stray from escaping the mini tray. High Edge is raised and smoothly curved to prevent spills and build-up of refuse.
The moonlit rolling tray is a reusable anti-litter device designed to store your butts until you can properly dispose of them. This pink tray is multipurpose, also can use to store other things on it.
You can take this lightweight rolling tray anywhere, ideal for traveling and a unique gift for Friends and Family.
Specifications
Zig-Zag Metal Rolling Tray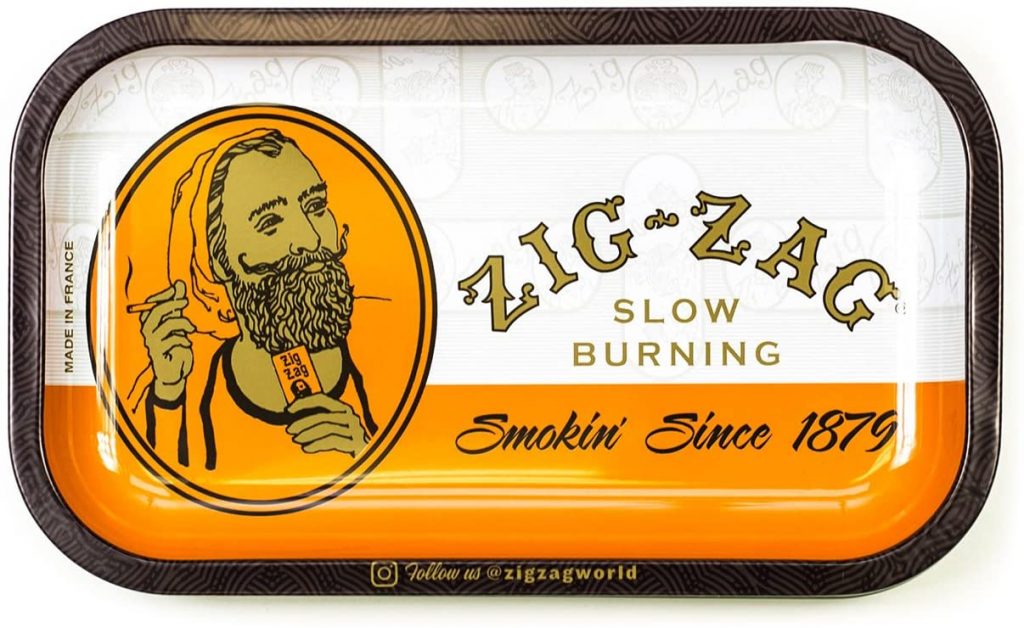 Review
Zig-Zag rolling trays come in both Small and Large sizes.
The large rolling tray is 13.4″ x 10.8″; a larger size to hold all your smoking papers, cones, filters, grinders, wraps, and rolling machines. The Small rolling tray measures (10 3/4″ X 6 1/2″); a smaller size for the on the go roller.
The tray is made from a high-grade premium metal that will not bend, warp, or become flexible, no matter what you do to it.
Fantastic design, craftsmanship, price, love everything about it.
Specifications
Full Size Rolling Tray Bundle
Review
With a unique design, this beautiful large black full-size rolling tray serves its purpose with style. This tray is made of thick but light metal, and it is a perfect size to take it anywhere. Made using offset printing, it's matted finishing ensures that none of your herbs go to waste.
This 12″ x 8″ rolling tray is sleek and provides you with a surface that makes rolling ease. Because of the curved corners, everything can be moved around easily—no more wasted herbs.
The bundle includes a full-size cigarette rolling tray, one pack of 110mm RAW rolling papers, one 110mm roller machine, and a plastic loader.
It is a Nifty rolling tray and perfect size for rolling.
Specifications
FIREDOG Metal Rolling Tray
Review
If you are a Big Rick and Morty fan, you will love this rolling tray.
The rugged metal construction ensures that this tray won't bend or dent easily.
It can be used for rolling up papers or clean your smoking products.
The tray has plenty of space for a grinder, your lighter, papers, etc. and also easy to carry around or put in a bag.
The manufacturer (FIREDOG) offers a lifetime warranty and guarantee with 100% satisfaction service.
Specifications
Forrest Large Metal Rolling Tray
Review
RAW rolling trays serve their purpose perfectly. This large rolling tray is nice and big, and it can fit all of your custom smoke supplies. Also great for just doing a quick roll or if you need one to travel with.
I love that this rolling tray is big enough to hold everything and not let things roll-off—a Certified RAWTHENTIC "Forrest" Image on the heavy-duty metal tray.
Specifications
ED Rolling Glow Light Up Tray
Review
The New Glow Tray x Cookies Rechargeable LED Rolling Tray will allow you to get lit anytime and anywhere. Perfect for 420 connoisseurs and collectors.
Glow Tray, made famous by Cookies Brand, has collaborated with popular brands such as Cookies by Berner, Runtz, Zkittles, Sharklato, Pink Dolphin, Alien Labs & more.
With rotating color options, a quick charging cable, an extra-long battery life, and a micro-suede travel bag, Glow Tray keeps you prepared to turn up and light up any situation.
Glow Tray uses the most innovative and up to date technology. Long-Lasting LED lights, Reinforced USB-C Port and high capacity charging cable, extra strength PCB board with charging resistor.
Specifications
Donut Theme Large Metal Rolling Tray
Review
Another quality rolling tray from RAW. If you don't already know by now, RAW is dominating the rolling tray game, and you should catch on.
This rolling tray truly exceeded my expectations. Super sturdy and great trays built to last a long time, including the design on it.
Through much time and use, the design will not scrape off if kept well. It is a very cool looking rolling tray. The size is perfect, not too big, and will fit all your pre-rolls, herbs on it when you are getting ready to smoke.
I love RAW products, and it is a great purchase and addition to the rolling tray collection if you know what's best for you.
Specifications
Raw Metal Rolling Tray Mini
Review
The Raw 'mini' is the smaller of the four metal trays from Raw that you can buy. Weighing in at 18cm long and 12.5cm in width, the tray will easily accommodate your rolling papers, filters, and tobacco. Being small, it will also fit into any draw or cupboard, keeping all your smoking accessories in one place and, if needed, out of sight!
The metal used to make the Raw Metal Tray is from high-quality premium material, which has then had all four corners rounded off, emblazed with the Raw logo's, and finished off with crisscrosses as you would find on Raw rolling papers.
The tray is smooth to the touch and can be easily wiped down with a cloth if required, is surprisingly durable, and is 100% non-flexible. This is an excellent tray for breaking up, rolling, packing, or anything else you need to do with handling your herbs.
If you are looking for a small rolling tray, easy to store, and to keep your smoking supplies in one spot, this is it.
Specifications
Metal Rolling Tray, Alice Mushroom Design by V Syndicate
Review
Another cool looking rolling tray from V syndicate.
The tray is built with durable metal, ensuring that it takes every hit of the sesh without dents. Also crafted with original designs in full, high quality printed color.
Very easy to Clean and requires nothing more than your preferred soap and water.
Specifications
WDCRFT Stash Box Rolling Tray Set
Review
WDCRFT stash box rolling tray includes a scrapper. At 11 × 8 × 4.5 inches, it's the perfect size to stash all your goodies. This beautiful storage box looks very sharp and elegant.
The box is made from a single block of bamboo. It offers a massive workspace on the extra-large rolling tray. The pouring spout makes the cleaning quick and easy.
The removable WDCRFT felt box liner protects your fragile equipment from scratches, dents, and breakage.
The box also comes with a Magnetic CNC rolling tray lid, pouring spout, scraper, satin varnish, premium joinery, removable divider, durable edge grain bamboo fluted finger grooves make this box a keeper.
Specifications
Rolling Tray Stash Box
Review
This Rolling Tray Stash Box offers extra storage capacity. The box is big enough to store all your smoking essentials and accessories in one place. Box dimensions are 10″ long x 8″ wide x 3.5″ tall.
This box is specifically designed to double not only as a stash box but a rolling tray. Flip the lid and place it on top of the box seamlessly for a smooth rolling surface. The cover also comes with a groove to help keep all your herb in one neat place.
The interior of the box includes a removable middle divider for easy organization. Attach the divider to create two separate compartments or remove it to increase overall storage space.
Each box comes with eight miniature magnets to ensure a tight seal around the lid but light enough to allow for easy opening and closing.
It is made from premium, durable bamboo. The box is not only built tough but also designed to be discrete and portable. It makes for the perfect gift.
Specifications
RAW Backflip Bamboo Magnet Rolling Tray
Review
This rolling tray is made from thick, heavy bamboo and is the perfect combination of look and function.
The Bamboo Rolling Tray has strong magnets that easily snap the two pieces together. It also has smaller magnets on the corners so you can close it up and throw it in a backpack or even use it as a stash box.
Just like other RAW products, the attention to detail and the quality of the material used for this tray is second to none. The tray feels heavy and durable.
The little scooper is a nice bonus to the already amazing rolling tray.
It is a great little rolling tray / mini-stash box.
Specifications
Types of Rolling Trays
There are various types of rolling trays out there, different brands and designs. Some come with a kit as well.
Rolling trays are also categorized by the materials used in their manufacture. Here is the list of some of the most popular rolling trays.
Metal Rolling Trays
Metal trays are very durable and are an affordable option. As the name suggests, they are made from metal sheets. They come in any size and design that suits your preference. Metal rolling trays can be less fancy, but they are quite functional.
Wooden Trays
Wooden rolling trays often have more engraved artworks than others. They have more elaborate features and details and are made from wood. Wooden trays tend to cost a little more than plastic or metal due to the intricate nature of these trays. Bare wooden trays are often less common. Most wooden rolling trays have at least a compartment carved in a wood piece. They can be box-shaped with multiple compartments to store your essentials for rolling joints.
Plastic Rolling Trays
Plastic trays are an all-purpose, affordable range of rolling trays. They are not as durable as wooden or metal trays but still function well. Some plastic rolling trays even have intricate features and storage space. They are easy to carry when you are traveling.
Glass Rolling Trays
Glass rolling trays are not very common, but you can find some incredibly thick, durable glass pieces in the market. These trays are heavy and not very durable and can be less practical to travel with than metal or plastic trays.
Benefits of Using a Rolling Tray
The benefits of using a rolling tray are many. If you like to roll joints or blunts, then it an absolute no-brainer that a rolling tray is something you should have in your arsenal of tools.
Here are some of the benefits you can expect from using a rolling tray:
Makes Less Mess
It is nice to have a rolling tray if you like to break everything down without making a big mess. Weed is not cheap – so you don't want to end up spilling it all over your floor and try to salvage as much as you can. By using a rolling tray, you can prevent this disaster from happening in the first place because a rolling tray gives you plenty of room to get your rolling done without making a mess all over the place. The cool thing about using a rolling tray is that it is easy to pick up even the smallest parts of weed when they are in the corner because of how rolling trays are built and easy to clean up afterward.
Makes Rolling Easier
One of the main reasons to purchase a rolling tray and use it when preparing blunts and joints is because it makes rolling super easy. The shape of the rolling trays holds all the weed in the middle on top of the rolling paper. It makes it much easier to maneuver the paper and the weed when you are trying to roll a massive blunt or cleanly wrapped joint.
Roll Anywhere
If you are mobile a lot and want to roll in a car or do a lot of rolling, then a rolling tray would be your best friend. It has got enough room for where you can fit everything on it.