All cannabis products on the market are extracts, but not all of these extracts are concentrates. In this article we will be going over the key differences between the types of extraction methods used, and some of the end products they produce. As there are pros and cons to each of these methods, we will be aiming to provide you with as much information as possible. So that you may make a well informed decision considering which products to use.
Concentrates Vs Extracts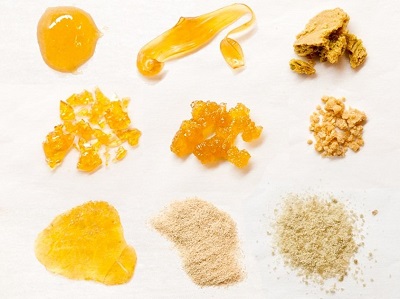 While the terms concentrate and extract are interchangeable, and often misused in marketing. They are fundamentally different from one another thanks to the extraction methods used to collect the CBD and THC Cannabinoids.
One extraction method favors "chemical" processing by implementing solvents and gases, while the other utilizes a more el naturel method of processing.
Both methods can still be used to produce either a concentrate or and extract. So the final defining factor would need to come down to the potency levels of the end product. Think of it this way, if it has a weaker potency, then its and extract. A more potent product would be considered a concentrate regardless of the processing method used.
Non-solvent Extraction Processing
The process of extracting the CBD and THC from a cannabis plant without using any solvents what so every. They instead use cold, heat and/or physical pressure to remove the resin/oil from the epidermis on the sugar leaves and buds.
The freshness and quality of the source material is highly important for non-solvent extraction, as they need to gather as much of Trichomes from the plant as possible. Separating the trichomes from the plant can be achieved by using manual or mechanical means.
The most simple and bare bone basic method used to process cannabis, is to just simply hang it up to dry out. Some do not regard this as a processing method, but it still requires a structured method to dry it out correctly and to help prevent rotting of the cannabis.
As most none-solvent produced products are not produced in a "closed-loop" environment. There is also a higher risk of environmental contaminates or other impurities contaminating the end product.
Only source your products from a trusted supplier or produce your own from raw material.
Solvent Extraction Processing
A favored commercial and industrial process, that introduces solvents to stripe the resin/oil from the buds, leaves and seeds of the cannabis plant. This is usually done in a "closed-loop" production line that ensures that the correct temperatures are maintained, and that there are no contaminates left in the end product.
These processes can be highly dangerous, as many of the solvents used are often flammable and remain flammable even after evaporating into gas. Most commercial/industrial producers would use a vacuum extraction system to remove these gases to help lower the risk of fires and explosions.
The solvent extraction process uses Butane and Propane, Alcohol or CO2 gas. The cannabis material can be soaked in the fluid to extract the CBD and THC Cannabinoids and left to evaporate. It can also involve exposing the material to the gas under pressure to force out the resins/oils.
When either of these processes are done, the solvent needs to be purger from the product. This can be done through evaporation, vacuuming, agitating or a combination on the end product.
If solvent processing is not done correctly, there could be high levels of the solvent left over in the end product. It is inadvisable to use products produced in a backyard setup that isn't operated correctly.
Processed Cannabis Products
Not everyone one likes the idea of smoking/inhaling cannabis products, or feel comfortable with using something that is chemically produced. So here we have broken down some of the more common cannabis products and how they are produced.
Non-solvent Produced Products
1) Dry Sift and Kief
Finding quality Dry Sift can be difficult, and it tends to be rather expensive. This is the most natural and unobtrusive method for producing a concentrate. It is also a very meticulous process that has a very low yield rate, while producing an end product that retains the natural flavor and aroma that comes from the cannabis plants.
Dry Sift is produced by using dry ice to freeze dry the cannabis buds before they are broken up and sifted through a series of micro meshed silk screens. This separates the trichome heads and stalks, from the rest of the bud.
The end product has a sand like consistency while having a soft feel. This makes Dry Sift different from other concentrates as it maintains its grainy structure until it is melted during dabbing.
2) Iced Water Hash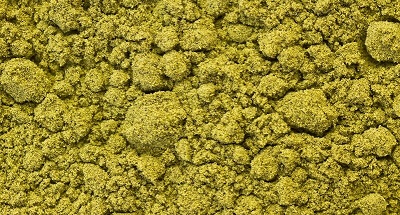 Often considered to be one of the safest and purest forms of cannabis concentrate. Iced water hash is very similar to Dry Sift, in its appearance and feel, as well as it's production process is almost the same.
The buds are broken apart and submerged in water with ice. The trichome heads are separated from the rest of the bud, by agitating the water either manually or mechanically. The water is then filtered through multiple meshes or a sieve stack, to separate the plant material from the water and then the water from the trichome heads and stalks.
The final process involves extracting the water from the hash material before curing. This is done either by breaking the hash into smaller pieces by using a metal strainer or a microplane, or by freeze drying the hash.
Once the moisture has been removed the hash is left to cure in an airtight container. Here the hash can be allowed to crumble like sand or be pressed into sheets or shapes for dabbing or aesthetic purposes.
3) Rosin Wax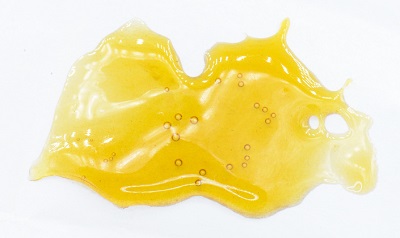 This method of extracting wax from cannabis is not a very productive nor cost effective method. It yields little wax from the plant material compared to how much can be extracted from the same amount of material using solvents instead.
It is however a safe and solvent free wax and is relatively easy to process. One method is to have the cannabis contained in a piece of folded baking paper. Using a flat hair iron, press/squeeze the packet, and scrapping the iron off while maintaining the pressure will release the wax.
Another method is to place the cannabis in a Rosin Press Bag, fold the excess bag length back over the packet and place it in a folded sheet of baking paper. Using a portable table top hydraulic press, apply pressure to the packet and hold it there for 10-15 seconds. Depending on the machine you are using this could take more or less time to extract the oils.
Which ever method you use, remove the plant material without touching the wax that has been extruded, and place the sheet in the fridge. When it has hardened it can be removed and stored in an airtight container in the fridge.
Solvent Produced Products
1) Shatter/Glass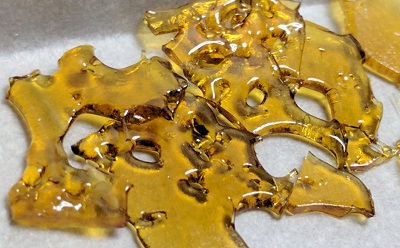 A transparent, lightly colored or clear concentrated, taffy like substance that packs quiet a punch. If exposed to any heat, even room temperature, the shatter can loose its structure and begin to liquefy. Once this occurs it will never regain its rigid form again.
In order for this product to be used correctly, it needs to be well heated in order to release its potency. If unintentionally exposed to enough heat, it will decarboxylate permanently even if kept in an airtight container.
2) Distillation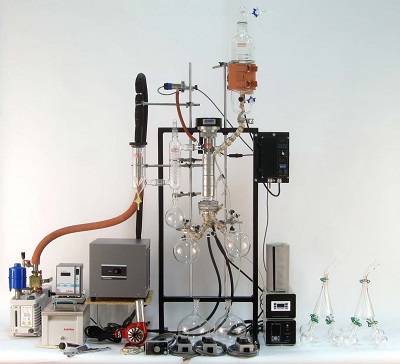 Picture a scene with a mad scientist's lab, where there is a boiling liquid in one chamber that feeds steam through pipes and coils that condense it back into a liquid that drips into a beaker, and you'll have a basic idea of what this process entails.
Thanks to innovative breakthroughs, scientist have been able to isolate and extract the THC, CBD and terpenes compounds from the cannabis plants. It has been found that a full spectrum oil has more medicinal potential, but being able to isolate the compounds means that more products can be produced with specific treatments in mind.
Theoretically a product containing over 90% CBD could be made that contains 0% THC. Eventually this could lead to synthetic compounds being produced or compounds being sold as general ingredients that could be bought off shelf from the local grocery store or ordered from a wholesale supplier for bulk food production.
3) Wax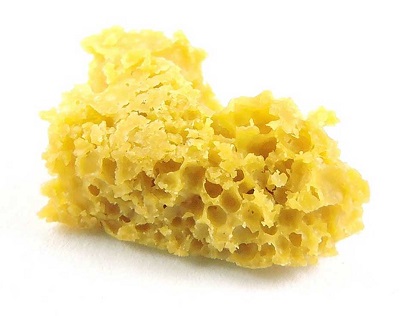 Not the most appealing looking substance as it often looks like ear wax. It is however a favorite for many users as it is easy to work with. It is also one of the more commonly produced substance from processing cannabis. Wax can be rather messy to handle so it is advised that tools be used when handling the wax for either storage or use.
4) Budder
Getting its name from its butter like consistency. It can also have a lumpy appearence that more resembles peanut butter. Budder is usually created using a butane extraction method, but the propane extraction method has been know to yield a more consistent texture.
5) Cold Pressed CO2 Oils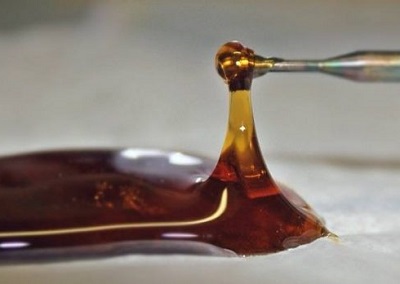 Produced by using a highly pressurized closed loop system, that keeps temperatures so low that bacteria is killed off. The pressurized CO2 has been found to be an incredibly efficient method for separating the resin/oils from the plant material. While also being regarded as a safe and natural solvent that the body can easily process.
The first stage of production, produces an amber oil that can be further processed into oils, vaporizers and even edibles. The end product is highly sterile and can be stored for longer periods of time, as well as being free of solvents that could be left behind by other processes.
Commercially speaking, CO2 processing has the greatest potential for further market development and has already begun to gain popularity within the commercial/industrial sectors thanks to its ability to fine tune the end products for various uses.
6) BHO (Butane Hash Oil)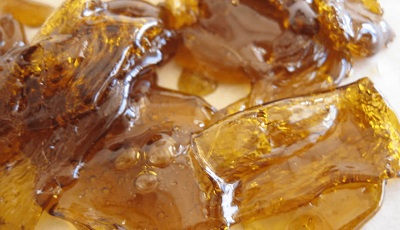 The more commonly used method for solvent based extraction, that produces products that can be either solid or oily in form. This process extracts the cannabinoids, waxes, concrete oils and terpenes from the cannabis plants. Sometimes it can also be used to extract the chlorophyll as well.
While this is a very popular process that most professionals use for mass production. It is highly recommended that you do not use this method for yourself at home. Butane is highly flammable and during the purging process the butane can be harmful to inhale.
Nevertheless the concentrate that is produced using this method is an extremely potent product, that's great for treating chronic pain. The wax that's left behind can either maintain a sticky consistency, harden up into a honeycomb like substance, or form shatter/glass products.
Due to the risk of butane contamination that results from improper purging practices. It is recommended to only source your products from a trusted supplier.
7) RSO/Phoenix Tears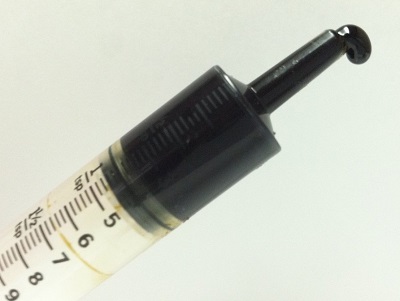 Originally made as a homemade remedy for treating skin cancer back in 2003. By soaking his cannabis in pure isopropyl alcohol or light aliphatic naphtha, a man named Rick Simpson, found that he was able to remove the resin from the cannabis. This produced a tar-like liquid following the solvent's full evaporation.
This is such an effective and popular product, that some commercial producers have begun to produce their own version under the name of Phoenix Tears. RSO can be administered orally or applied directly to the skin to be absorbed. Not all ROS's are THC based, as some are CBD based with no intoxicating effects. Either of the compound based products can have levels reaching as high as 90% concentration.