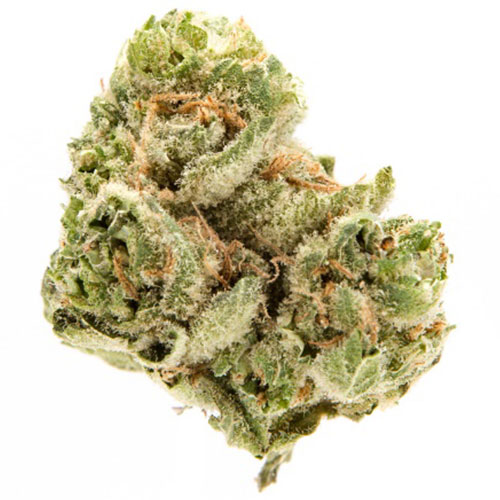 This award-winning strain makes for the perfect "wake and bake" to help get you started for the day. If you are looking for a strain that will mellow you out and help you sleep at night, then this is not the strain for you. Clementine is actually one of the best uplifting and energizing strains available on the market today.
What is the Clementine Strain
Clementine is yet another of the wonderous strains that have been developed by Crockett Family Farms. It is a high quality, potent strain that's capable of both relaxing the body, and invigorating the mind. In 2015, this strain actually took 2nd place for the Best Sativa Concentrate at the 2015 Cannabis Cup, in Michigan.
Users that partake in the use of Clementine will not find themselves being couch-locked. Instead, they'll experience an energizing effect that can help them get through the day. They'll feel well-rested, recharged, and inspired.
The beneficial effects don't just end there. Along with the energy-boosting properties of Clementine, it also improves alertness, perception, and concentration. It even helps to stimulate creative juices, and even engage a person's problem-solving skills.
---
Lineage and Producer
Clementine was developed by crossing the Tangie strain, with the Lemon Skunk strain.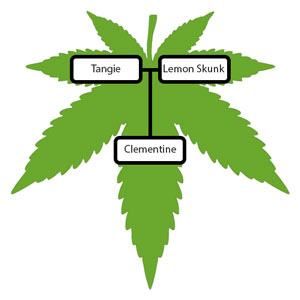 ---
The Flavor Profile
Clementine has serval overlapping flavor and aroma profiles. A properly cured batch can have an aroma very similar to that of fresh oranges, lemons, and pine. But when the buds are broken open or ground up, they can also release a sour diesel smell.
Smoking Clementine also has a sweet and sour citrus flavor with earthy undertones. When burning Clementine, it develops a very distinct and pungent aroma that can fill an entire room. If you need to be discreet with your cannabis use, Clementine can make this rather difficult for you to do.
---
Where Can You Buy Clementine Seeds?
You can find Clementine seeds to buy at various dispensaries and online stores such as:
---
Growing Clementine
Growing Clementine can be done effectively both indoors and outdoors. Whether you are growing indoors or outdoors, you will need to regularly trim and prune back the plant. Clementine is a tall-growing plant and as such, will require regular maintenance to ensure that the highest yields can be achieved.
This particular strain requires plenty of sunlight, temperatures of 72° – 80°F, and a semi-humid climate to thrive. This makes Clementine more suited for indoor growth in many areas, but growing indoors also presents another hurdle of its own.
Clementine is actually a very pungent crop. In the fresh open air, the smell is carried away in the wind, but in an indoor environment; you may need to implement ordor control measures. This could include exhaust fans, carbon air filters, or an air circulation system that draws in fresh air, removing the old air from around the plants.
---
Flowering
When pruned effectively, large impressive conical flowers can develop within 8-9 wees indoors, or around mid-October outdoors.
These buds are of a deep purple hues, that are sprinkled with golden pistils, and covered in cloudy, translucent trichomes. The trichomes coat the entire plant, making it an excellent strain for resin processing.
---
What Gives Clementine its Fast Acting High?
The average Clementine has approximately 18% THC and being a Sativa dominant strain, it affects the head more so then the body. Cannabis testing lab Analytical 360 in Seattle, has found that some crops can even contain up to 27% THC.
This wild fluctuation in THC concentration could explain why some people are hit hard than others when using Clementine. Nevertheless, this strain remains a very potent strain indeed, and its effects are taken advantage of by man people from all different walks of life.
---
What Condition is Clementine used to Commonly Treat?
Whether it's through self-medication or under advisement, many people have taken to using Clementine to treat several medical conditions. The success rate or effectiveness of Clementine is open for debate. Based on user testimonies, here are a few of the conditions people have treated with Clementine and their average effectiveness.
1) Loss of Appetite
Loss of appetite brough on by nausea can be alleviated with the use of Clementine. It may not induce a massive munchies craving for most users, but it can help people that are suffering from many different nauseous conditions.
Can be moderately effective: 7
2) Depression
The strong euphoric effect of Clementine has been known to give an uplifting feeling for many users. Depression that is caused by a sense of inability to find the energy to do things, feeling low or a difficulty to focus, can all benefit from the effects that Clementine can have on users.
If you do suffer from depression, it is best to first seek medical advice before trying to self medicate.
Can be effective: 6
3) Fatigue
Clementine is the "wake and bake" choice for many users. The energetic effect that it has on both mind and body, makes Clementine a perfect natural remedy for countering fatigue, or lack of focus brought on by being tired.
We do not recommend using Clementine to help you drive long distances or late into the night. Getting some rest every few hours is best for long-distance trips.
Can be very effective: 9
4) Pain Management
There are many types of chronic pain, from nerve pain to soft tissue, and even pain caused by cancer. For this reason a simple yes it works, or no it doesn't isn't a fair assessment. As such we will assume that the pain in question is acute, meaning short term, soft tissue damage caused by a sprain, impact, or broken bones. In this regard, yes most users have found temporary relief from using Clementine for pain management.
Highly dependent on the mindset and condition of the individual, as such, it can be effective.
5) Insomnia
The energetic effects of Clementine makes this strain highly unsuitable for treating insomnia.
Not Suitable: 1
6) Relieving Stress
Physical stress and tension can be relieved relatively effectively by using Clementine. If the stress in more from external pressure such as financial or other problems that may be on your mind; then Clementine could actually make you worry about them more.
The trick is to have something else to focus on, tasks to do, or problems to solve. Clementine can help distract you from some things by redirecting your attention to other matters.
Can be moderately effective: 7
7) Anxiety
Even though Clementine can have a relaxing and calming effect, it can also stimulate the brain. This can be counterproductive for anxiety as thoughts can start to race unchecked.
For this reason, if you suffer from anxiety, or are prone to panic attacks, we would advise taking Clementine in smaller batches at first. Slowing increase how much you take at a time. This can help to ensure that you can handle the strain, without triggering an episode.
If you do suffer from anxiety, it is best to first seek medical advice before trying to self medicate.
Can be effective: 4
8) ADHD
Thanks to the way that Clementine can help some people to clear their minds; it has been found to help them focus more on the tasks at hand. For this reason, many users have found that this strain can be a good natural remedy for countering the effects of ADHD. Unlike some other strains that can couch lock an individual, Clementine can actually help to improve some people's focus, all without overly sedating the users.
Highly dependent on the extent of an individual's condition, as it can be effective.
---
The Adverse and Negative Effects of Using Clementine
Aside from the negative repercussions that can come from overuse or abuse of any substance, Clementine is just as safe to use as any other cannabis strain. Other than a very high chance of Dry Mouth, responsible consumption of Clementine has relatively low risks for the following effects:
Dry Eyes
Dizziness/Disorientation
Paranoia
Anxiety
Headaches
It does need to be noted though, that due to its fast-acting potency, Clementine may not be suitable for novices, or those who are THC intolerant, to take. It does have a rather bad reputation for making some users feel overwhelmed, anxious or even unsettled. This is due to how it can stimulate the brain, encouraging thoughts and focus.
If you are not a seasoned veteran or have had issues with other strains in the past, then it may be wise for you to avoid this strain or at least start by taking smaller does to test the water.
---
Quick Reference Guide
Cultivation Details
Growing Difficulty
Outdoors Easy
Indoors Easy to Moderate
Growing Conditions
warm and semi-humid
Disease Resistance
Resistant to most common molds and mildews
Parentage
Tangie
Lemon Skunk
Growth Height
Tall
Bud Growth
Large
Trichomes
Cloudy, translucent and plentiful
Yield Capabilities
Flower Develop
Outdoor 8-9 weeks
Indoors 8-10 weeks
Indoor Yield
3oz per 3ft²
Outdoor Yield
15oz per plant
Outdoor Harvesting
Mid-October
Pallet
| | |
| --- | --- |
| Fragrance/Aroma | Orange/Lemon citrus, Pine |
| Flavor Profile | Sweet and sour citrus |
Concentration and Potency
| | |
| --- | --- |
| Sativa : Indica Percentage | 60% : 40% |
| THC Percentage | 18% common, as high as 27% |
| CBD Percentage | 0.5% – 1% |
| Duration of Effects | Long-lasting |
Effectiveness as a Treatment
| | |
| --- | --- |
| Loss of Appetite | Can be moderately effective |
| Depression | Can be effective |
| Fatigue | Can be very effective |
| Pain Management | Situational Low-Highly Effective |
| Insomnia | Not suitable |
| Stress Relief | Cam be moderately effective |
| Anxiety | Can be effective |
| ADHD | Situational Low-Highly Effective |
Risk of Adverse Effects
| | |
| --- | --- |
| Dry Mouth | Highly Likely |
| Dry Eyes | Moderate Risk |
| Dizziness/Disorientation | Low Risk |
| Paranoia | Low Risk |
| Anxiety | Moderate to High Risk |
| Headaches | Low Risk |