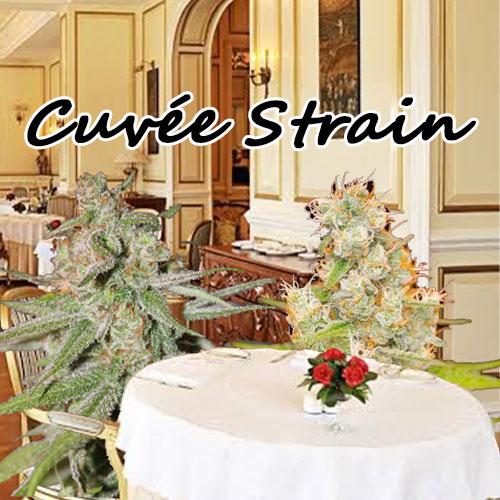 The French word for "a special selection that is made of the highest quality" is Cuvée, which suits this rare strain quite well. What makes the Cuvee Strain one of the best strains for the most discerning of consumers, is its delicious flavor profile, and potent whole-body uplifting effect.
What is The Cuvee Strain?
The Cuvee Strain was the result of a collaboration made by TGA Genetics and Aficionado Seeds. It is a strain that is ideal for those who may be new to cannabis products, to begin with, and one that the most seasoned of veterans could still kick back and enjoy.
Despite its popularity, the Cuvee Strain can be a rather rare strain to find. As the seeds are no longer available from Aficionado Seeds, most growers have had to resort to cloning their crops.
This lack of availability is responsible for the higher than average price tag that can be seen at many of the distributors. Expect to see Cuvee selling around $15 USD per gram. You may get lucky and find a distributor that could be willing to sell Cuvee for $10 per gram. But due to the limited number of grows, they are able to charge resellers premium for their product.
The Curee Strain is also a very popular strain for growers who produce concentrates and edibles, due to the high resin content and pleasant flavor profile.
---
Lineage and Producer
There are actually three main variants of the Cuvee Strain. This has to do with how the strain was produced and cultivated. One strain is known for having a strong cherry flavor. The second is popular for its chocolate flavor profile. The third and most popular phenotype among growers is favored for its early flowering cycle.
All three of these main variants are the direct result of the collaboration made by TGA Genetics and Aficionado Seeds. They crossed the Space Queen with a cloned Pinot Noir. Attempts at reproducing this method, have resulted in the three main varients being developed.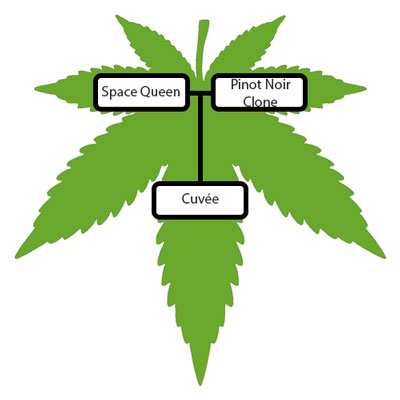 ---
The Flavor Profile
Each of the three main phenotypes can have a slightly different flavor profile from the other two. The two main flavors that can be detected, are sweet cherry and chocolate, with lingering undertones of earthy or woody pine.
Your stash could smell like blueberries and chocolate when it is being stored, with a now empty room or container having a faint lingering spicy, citrus aroma.
---
Where Can You Buy Cuvee Seeds?
There are some "Cuvee seeds" available from secondary producers, but its a bit of a gambit when it comes to finding true Cuvee seeds. Unfortunately, Aficionado Seeds no longer sells any Cuvee seeds. All that we can advise, is buyer be wear, and only source your seeds from a trusted and reputable dealer.
---
Growing Cuvee
Cuvee is an easy strain to grow, but it can require a steep learning curve to master. Being a small to medium-sized plant, 2.5′ to 4.5′, Cuvee doesn't require much space in order to produce quality yields.
The plant is a compact and bushy strain, meaning it likes to grow dense and wide, which can have prevent light from reaching the inner and lower branches.
To fix this issue, you may need to top your crop. In other words, you'll need to train the top of the plant to allow it to grow to the side and out, not just up. This will allow light to reach the rest of the plant, which in turn increases the size of the yield.
When grown indoors it will need regular pruning to help improve airflow which prevents a mold or mildew infestation. Plant supports may also be required to help prevent the branches from over sagging and breaking off.
Outdoor crops will need to be protected from the elements. Heavy rain could weigh down the branches, causing them to break off. Strong winds can also cause the plants to fall over. Be sure to use a windbreaker, and a strong shade cloth to help protect the crops from the elements.
---
Flowering
The quickest of the three phenotypes can yield a harvestable crop within 7 weeks, or by mid-September. The other two can take 8-9 weeks to flower when grown indoors and can be ready for harvest in mid to late October if grown outdoors.
The Cuvee Strain produces more flowers than leaves. Flowering is dense and heavy, with the buds that look as though they are coated in sugar. Producing 13-14oz for every 3ft² of space when grown indoors, and with the use of string supports, up to 22oz per plant could be harvested when grown outdoors.
---
What Gives Cuvee its Strong High?
The effects of the Cuvee Strain can start to be felt in as little as 15-30 minutes, lasting for hours. This is primarily thanks to the strain being Indica dominant, with an average THC concentration of 17%. There have been some variants that are weaker with a lower concentration level that's as low as 14%, or stronger ones that have produced test results as high as 20.5%.
---
Conditions Cuvee is Commonly Used to Treat
Whether it's through self-medication or under advisement, many people have taken to using Cuvee to treat several medical conditions. The success rate or effectiveness of Cuvee is open for debate. But based on user testimonies, here are a few of the conditions people have treated with Cuvee and their average effectiveness.
1) Loss of Appetite
Using Cuvee for loss of appetite can vary. While it can be effective with suppressing feelings of nausea, it is really known for giving people the munchies like so many other strains are.
May Have an Effect – 5
2) Depression
Cuvee has a relatively strong uplifting effect that can help to make your troubles just melt away; well for the time being at least. As long as you are able to keep your mind off of what ales you, Cuvee is more than capable of providing you with a pleasant distraction.
If you do suffer from depression, it is best to first seek medical advice before trying to self medicate.
Can be Rather Effective – 7
3) Fatigue
Cuvee is not the type of strain that can give you an energetic boost. It has the opposite effect in fact. Cuvee can have a strong couch-lock effect on people, but with a little will power and determination, it can be pushed through. So while Cuvee may not give you the much-needed energy, you may be able to shake off the couch-lock effects.
Not Very Helpful – 2
4) Pain Management
There are many types of chronic pain, from nerve pain to soft tissue, and even pain caused by cancer. For this reason a simple yes it works, or no it doesn't isn't a fair assessment. As such we will assume that the pain in question is acute, meaning short term, soft tissue damage caused by a sprain, impact, or broken bones. In this regard, yes most users have found temporary relief from using Cuvee for pain management.
Highly dependent on the mindset and condition of the individual, as such, it can be effective.
5) Insomnia
Timing is key if trying to use Cuvee for treating Insomnia. If you take a dose before going to bed, you may be able to start drifting off in about 15 minutes.
Unfortunately, Cuvee isn't strong enough to help keep most people in a deep enough state of sleep, with many people waking up, only a few hours after falling asleep.
Can be Effective – 6
6) Relieving Stress
The combination of the whole body effect, and the uplifting euphoric sensation that Cuvee can provide, most, if not all, users have found that this strain is great for relieving stress. This applies to both muscle strain and tension, and mental stress brought about by heavy workloads or problems in your life.
Just be sure not to use Cuvee as the escape, rather than facing your problems, or trying to fix the root cause of the stress to being with.
Extremely Effective – 10
7) Anxiety
Even though Cuvee can have a whole body relaxing and calming effect, it can still stimulate the brain. This is counterproductive for anxiety as thoughts can start to race unchecked.
As a result, people who suffer from an anxiety condition may want to avoid this strain. If you do suffer from anxiety, it is best to first seek medical advice before trying to self medicate.
Would Advise Avoiding – 1
8) ADHD
People with ADHD can have a variety of triggers and behavior issues. The whole body calming effect of the Cuvee could be used to help relax people who have ADHD, making it a natural alternative to some other medications.
Highly dependent on the extent of an individual's condition, as it can be effective.
---
The Adverse and Negative Effects of Using Cuvee
Aside from the negative repercussions that can come from overuse or abuse of any substance, Cuvee is just as safe to use as any other cannabis strain. Other than a very high chance of Dry Mouth, responsible consumption of Cuveehas relatively low risks for the following effects:
Dry Eyes
Dizziness/Disorientation
Paranoia
Anxiety
Headaches
---
Quick Reference Guide
Cultivation Details
Growing Difficulty
Easy-Moderate
Growing Conditions
Mediterranean Climate – dry and sunny
Disease Resistance
Resistant to common molds and mildew. But needs good airflow.
Parentage
Space Queen
Clone-only Pinot Noir
Growth Height
Small-Medium
2.5′ – 4.5′
Bud Growth
Dense and Heavy
Trichomes
Thick white coat
Flowering Type
Photoperiod
Yield Capabilities
| | |
| --- | --- |
| Flower Develop | 7-9 weeks Indoors |
| Indoor Yield | 13-14oz per 3ft² – if topped |
| Outdoor Yield | 22oz per plant – if grown with string supports |
| Outdoor Harvesting | Mid-September to Late-October |
Pallet
Fragrance/Aroma
Blueberries and Chocolate
With a lingering spicy, citrus
Flavor Profile
Sweet Cherry and Chocolate
Earthy or Woody Pine Undertones
Concentration and Potency
Sativa : Indica Percentage
30% : 70%
THC Percentage
14%-20.5%
Avg 17%
CBD Percentage
less than 1%
Duration of Effects
several hours
Effectiveness as a Treatment
| | |
| --- | --- |
| Loss of Appetite | May have an effect |
| Depression | Can be rather effective |
| Fatigue | Not very helpful |
| Pain Management | Situational Low-Highly Effective |
| Insomnia | Can be Effective |
| Stress Relief | Extremely Effective |
| Anxiety | Would Advise Avoiding |
| ADHD | Situational Low-Highly Effective |
Risk of Adverse Effects
| | |
| --- | --- |
| Dry Mouth | Highly Likely |
| Dry Eyes | Moderate Risk |
| Dizziness/Disorientation | Low Risk |
| Paranoia | Low-Moderate Risk |
| Anxiety | Moderate-High Risk |
| Headaches | Low Risk |