What is a blunt?
Blunts are ground buds rolled in the outer tobacco leaf wrapping of a cigar or prepackaged blunt warps instead of rolling papers. Blunt is more like a cigar that has been emptied of the tobacco-leaf and filled with cannabis. Compared to joints, blunts are much larger, burn much slower, and can be passed around many more times. The tobacco wrapping does affect the overall flavor of the weed but is still a preferred method by many experienced smokers, who take great pride in how well they can roll them. "Blunted" is a term used to describe how one feels after smoking a blunt.
Blunt Vs. Joint
Joint is the classic OG. The hippies, the rock stars, Bob Marley, they all smoked joints. There is no tobacco in the joints so that you can taste the weed more. There are different types of joints, like cross joints, clear joints, etc.
Blunts, on the other hand, are smoother than joints. Blunts are much bigger. There are some big joints in the world, but most blunts are like at least twice as big as the Joints. Blunts come with many flavors like mango madness, strawberry swirls, etc.
Things you will need to roll a blunt
Cannabis strain of your choice
Cigars or blunt wraps
Grinder
Blade or a sharp knife
Tray
How to roll a perfect blunt?
Rolling a blunt is an art. Like any other skill, practice is key to success. There are so many funny blunt memes on the internet for poorly rolled blunts. But if you follow the tips below and with practice, you will be rolling a perfect blunt every time.
Here are the steps to roll a perfect blunt.
Step 1 – Grind the cannabis
Use a grinder to grind your cannabis. Don't grind your weed too much, or they will turn into powdery dust. When you are rolling a blunt, you need a fluffy consistency. You can also use your hands to break up the weed if you don't have a grinder. Grinder helps to maintain an even burn. Using your hand is more traditional method. People often prefer this method to help the blunt burn a little slower.
Step 2 – Prepare the wrap
To roll the blunt, you will need a tobacco wrap. It is ubiquitous to empty a cigarillo, but you can find empty cigar wraps at your corner shops easily these days. Use a sharp knife or blade to split the blunt lengthwise, from the butt to the tip. If you don't have any sharp object, then you can always use your thumbs. It's easier to use your thumbs if you have nails! Once you have split open the cigar, remove all the tobacco. Now you have an empty tobacco leaf to roll your blunt.
Step 3 – Fill up the blunt
Filling up the blunt is fairly simple. Lay your blunt up and open it up a little bit. Now sprinkle the prepared weed evenly in the blunt wrap. Load it as fully as possible. Many expert blunt rollers fill up the center of the blunt more thickly and gently push them in on each end. For a standard size Cigarillo, one to two grams of weed is plenty.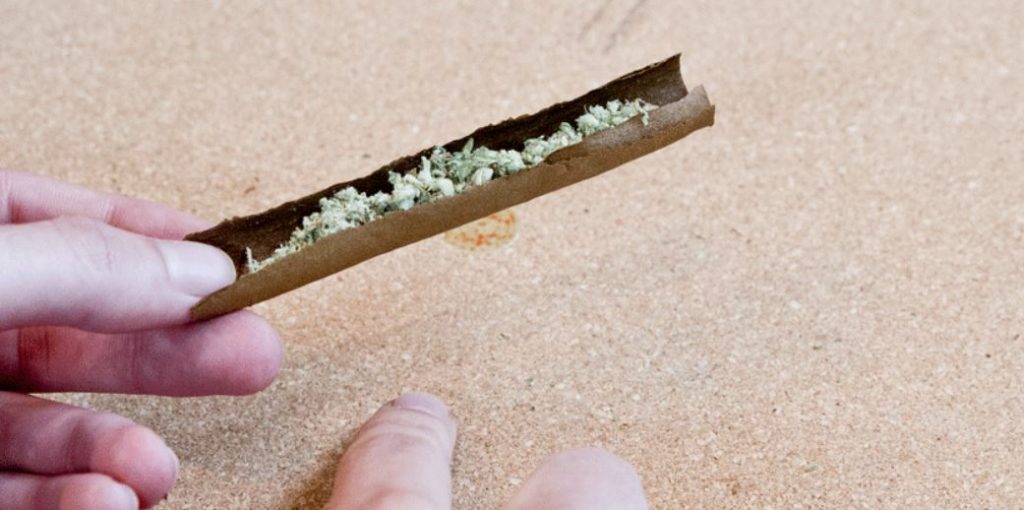 Step 4 – Lick & Tuck
This step will be a bit challenging if you are rolling a blunt for the first time. It will take some practice to master the perfect tuck technique. Don't just give up yet! Pick up the blunt with two hands, and roll it back and forth using your thumbs. Use your index fingers to press downwards at the same time. This way, the weed will sit flat in the bottom of the blunt wrap, and you will get a nice tight roll. Now lick the top of the blunt wrap lightly and close over.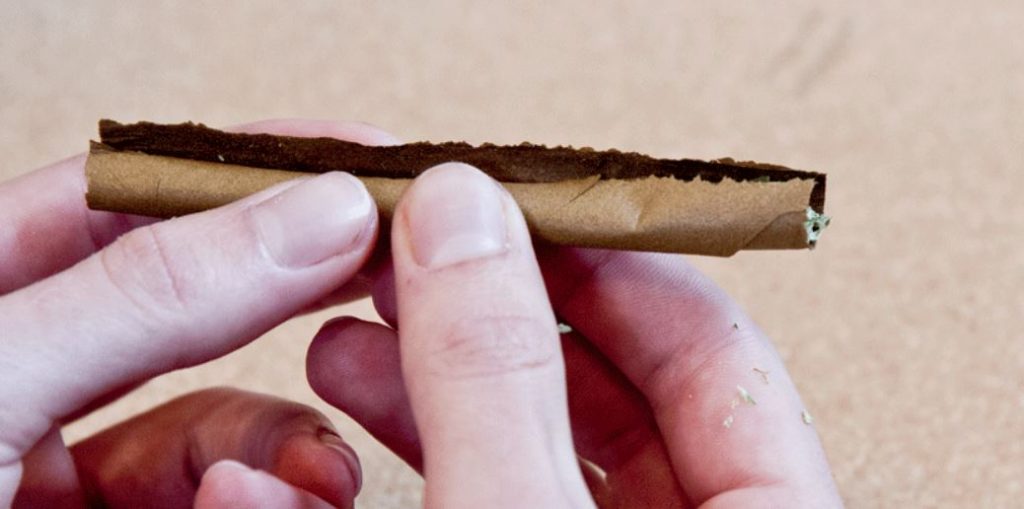 Step 5 – Seal the blunt
At this point, it just spits holding your blunt together. So, you will need to make sure that it stays sealed when you smoke it. You don't want it to fall apart when you light it. To seal your blunt, carefully run the flame of a lighter back and forth across the blunt. Rotate the blunt gently to the heat, so the wrap is firm evenly. Make sure that you keep the flame moving and don't scorch the blunt wrap.
Now, Enjoy your creation!
Tips – I will highly recommend that you use a tray when rolling a blunt. The weed falls out when you pack them in the blunt wrap. It's also easy to break up the weeds in a tray without making too much mess. The best thing is that you don't have to clean up the weed crumbs from your desk or bed after rolling your blunt.