If you are looking for a strain that has a pleasant lemony taste but lacks that bitter ammonia or diesel after taste, then Lemon Kush may just be the strain for you.
What is The Lemon Kush Strain?
Lemon Kush is one of those strains that have a bit of a mixed bag of fruit sort of history. It is a lemon-flavored strain that's free of the ammonia and diesel aftertastes that are usually associated with other Lemony strains.
It is also an uplifting and creativity inducing strain that can be enjoyed at almost any time of the day. It lacks the negative couchlock and drowsiness inducing effects that can be felt when using some of the other strains out there.
---
Lineage and Producer
Some people believe that Lemon Kush was produced by crossing a South American mountain strain, with a Lemon G, Lemon Joy, or some other strain that was high in the D-limonene chemical compound responsible for creating the lemon fragrance and flavor profile.
The truth falls somewhere in the middle. One strain that is hard to come by these days was produced by Alien Genetics, a prolific breeder that crossed Lemon G with Afghan Kush. The most common and readily available strain of Lemon Kush was developed by crossing the Master Kush strain with the Lemon Joy strain.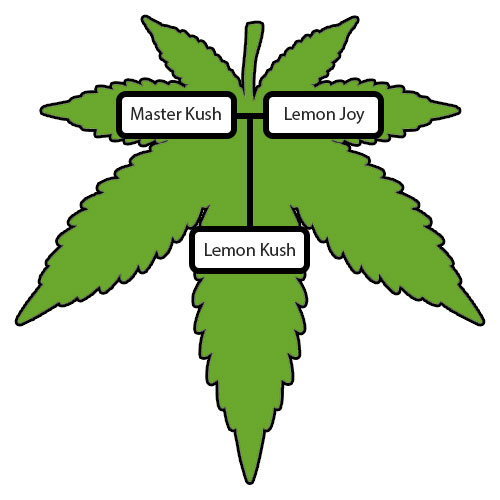 ---
The Flavor Profile
As the name suggests, Lemon Kush has an almost sweet, lemony citrus flavor, with earthy undertones. But unlike so many other Lemon flavored strains, it lakes that ammonia or diesel after taste that is often associated with this type of strain.
---
Where Can You Buy Lemon Kush Seeds?
The strain of Lemon Kush that was developed by Alien Genetics is no longer available through normal means. You might be able to find clones here and there, but you'll need to make sure that you are dealing with a reputable dealer.
As for the more common Mater Kush+Lemon Joy strain of Lemon Kush, seeds are readily available and can be purchased from distributors such as:
---
Growing Lemon Kush
The Lemon Kush strain is a relatively easy strain to grow. It thrives in warm Mediterranean like climates that have stable temperatures of between 70-80°F (21-27°C), a consistent amount of sunlight, and humidity levels between 40-50% when flowering. It is also a good strain for beginners to learn and develop their indoor growing skills.
This strain is known to grow between 4-6 feet tall and may require some upkeep to help maintain its hight and bushy growth when grown indoors.
---
Flowering
When grown outdoors, crops can be ready for harvest in late September to mid-October, and within 8-10 weeks when grown indoors. Yields vary between indoor and outdoor crops, with an average yield of approximately 6oz per 3ft² indoors, and 35oz per plant outdoors.
The buds are smaller than average and covered in a thick coating of white frosty trichomes. Breaking apart the buds, even when properly cured, can be difficult due to how much resin these trichomes contain. If you want to break apart your buds, you may need to use a grinder.
---
What Gives Lemon Kush its Moderate-High?
The potency of Lemon Kush varies from plant to plant. With an average THC concentration level of 20%, Lemon Kush has been found to contain levels of THC as low as 16%, right up to levels of 26%. This difference in THC content is one of the reasons why some people aren't that impressed with the strain, while others would swear by it.
---
Conditions Lemon Kush is Commonly Used to Treat
Whether it's through self-medication or under advisement, many people have taken to using Lemon Kush to treat several medical conditions. The success rate or effectiveness of Lemon Kush is open for debate. But based on user testimonies, here are a few of the conditions people have treated with Lemon Kush and their average effectiveness.
1) Loss of Appetite
Using Cuvee for loss of appetite can vary. While it can be effective with suppressing feelings of nausea, it is really known for giving people the munchies like so many other strains are.
May Have an Effect – 5
2) Depression
Cuvee has a relatively strong uplifting effect that can help to make your troubles just melt away; well for the time being at least. As long as you are able to keep your mind off of what ales you, Cuvee is more than capable of providing you with a pleasant distraction.
If you do suffer from depression, it is best to first seek medical advice before trying to self medicate.
Can be Rather Effective – 7
3) Fatigue
Lemon Kush is not known for causing couchlock, for helping people to get to sleep, but neither is it known for invigorating and energizing the body.
If having an active mind helps to keep you wake, then Lemon Kush might be the strain for you. But if you are looking for a boost of energy, you may need to take a caffeine hit.
May Have an Effect – 5
4) Pain Management
There are many types of chronic pain, from nerve pain to soft tissue, and even pain caused by cancer. For this reason a simple yes it works, or no it doesn't isn't a fair assessment. As such we will assume that the pain in question is acute, meaning short term, soft tissue damage caused by a sprain, impact, or broken bones. In this regard, yes most users have found temporary relief from using Lemon Kush for pain management.
Highly dependent on the mindset and condition of the individual, as such, it can be effective.
5) Insomnia
Lemon Kush is not the type of strain that can make you overly drowsy, and as such its not the sort of strain, you should use if you are trying to overcome Insomnia or just trying to get to sleep, to begin with.
Not Very Effective – 2
6) Relieving Stress
Depending on the sort of stress that you are under, Lemon Kush could be used to help alleviate some of the pressure you may be under.
You will need to be careful, however, as Lemon Kush is known for stimulating the mind and encouraging free thought. What this means is that if the stress is being caused by things that are worrying about, then taking Lemon Kush could lead to you overthinking about these issues, which could lead to you being even more stressed out.
Can be Rather Effective – 6
7) Anxiety
Even though Lemon Kush can have a relaxing and calming effect, it can also stimulate the brain. This is counterproductive for anxiety as thoughts can start to race unchecked.
If you do suffer from anxiety, it is best to first seek medical advice before trying to self medicate.
May Have an Effect – 5
8) ADHD
People with ADHD can have a variety of triggers and behavior issues. The whole body calming effect of the Cuvee could be used to help relax people who have ADHD, making it a natural alternative to some other medications.
Highly dependent on the extent of an individual's condition, as it can be effective.
---
The Adverse and Negative Effects of Using Lemon Kush
Aside from the negative repercussions that can come from overuse or abuse of any substance, Lemon Kush is just as safe to use as any other cannabis strain. Other than a very high chance of Dry Mouth, responsible consumption of Lemon Kush has relatively low risks for the following effects:
Dry Eyes
Dizziness/Disorientation
Paranoia
Anxiety
Headaches
---
Quick Reference Guide
Cultivation Details
Growing Difficulty
Easy-Moderate
Growing Conditions
Mediterranean
Disease Resistance
Resistant to most common molds and mildew
Parentage
Master Kush
Lemon Joy
Growth Height
4 – 6 Feet
Bud Growth
Smaller than average in size
Trichomes
Thick coating of white frosty trichome
Flowering Type
Photoperiod
Yield Capabilities
| | |
| --- | --- |
| Flower Develop | 8-10 Weeks Indoors |
| Indoor Yield | 6oz/3ft² |
| Outdoor Yield | 35oz per plant |
| Outdoor Harvesting | Late September – Mid-October |
Pallet
| | |
| --- | --- |
| Fragrance/Aroma | Citrus, Sweet, Earthy, Herbal |
| Flavor Profile | Lemon, Citrus, Sweet, Earthy |
Concentration and Potency
| | |
| --- | --- |
| Sativa: Indica Percentage | 50% : 50% |
| THC Percentage | 20% Avg |
| CBD Percentage | 1% |
| Duration of Effects | 2-3 Hours |
Effectiveness as a Treatment
| | |
| --- | --- |
| Loss of Appetite | May Have an Effect |
| Depression | Can be Rather Effective |
| Fatigue | May Have an Effect – 5 |
| Pain Management | Situational Low-Highly Effective |
| Insomnia | Not Very Effective – 2 |
| Stress Relief | Can be Rather Effective – 6 |
| Anxiety | May Have an Effect – 5 |
| ADHD | Situational Low-Highly Effective |
Risk of Adverse Effects
| | |
| --- | --- |
| Dry Mouth | Highly Likely |
| Dry Eyes | Moderate Risk |
| Dizziness/Disorientation | Low Risk |
| Paranoia | Low Risk |
| Anxiety | Moderate Risk |
| Headaches | Low Risk |