What is GG4 Strain?
GG4, aka Original Glue, is a Indica dominant hybrid cannabis strain formerly known as Gorilla Glue # 4. GG4 strain was originally developed by GG Strains, veterans in breeding and cultivation of medicinal and recreational marijuana strains. The strain was named after a well-known adhesive brand called Gorilla Glue for its sticky trichomes and resins. Due to some legal issues with the branding, they renamed the strain Super Glue aka GG4. The official name of any versions of Gorilla Glue strain is GG.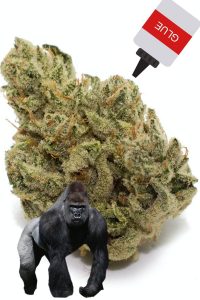 Would you believe that this multi-award winner strain was created accidentally?
When GG Strains breeder Joesy Whales was growing Chem sister plants, he found out that they hemied and pollinated his Sour Dubb plants, which were nearby. Joesy was frustrated and threw away the strain. Luckily, one of his buddies, who was also his fellow grow friend Mardogg, held on to some of these seeds. Years later, Mardogg planted those seeds, created four phenotypes, and named the strain Gorilla Glue because of its sticky bud's resin, which gets stuck to the fingers and scissors like a strong adhesive.
GG4 Strain is one of the most talked-about super-potent cannabis strains currently in the market. The THC content of the GG4 strain can be anywhere from 20% to a whopping 32% on the top end. While the CBD content tends to be very low in this strain, the GG4 cannabis strain has been successfully managing some medical problems.
Background and Lineage
GG4 is one of the phenotypes of Gorilla Glue strain, created by crossing three very famous cannabis strains: Chem Sister, Sour Dubb, and Chocolate Diesel. This sticky strain exploded in popularity in the cannabis industry in 2013 and won several awards. GG4 Strain took the first place in both Michigan and Los Angeles 2014 High Times Cannabis Cups for the Best Hybrid Flower, and 2015 Cannabis High Times World Cup in Jamaica. The following year it won the 2nd place for Best Hybrid Flower at the 2016 Colorado Cannabis Cup. GG4 strain is prevalent among both recreational and medical users all over the world.
Even it is a Indica dominant strain, the Sativa effects are pretty strong. It means that GG4 will give you a Sativa high with the Indica effects. GG4 is a perfect balance of an energetic, excitable high and a calming, mellow high. So, you can enjoy both euphoric rushes and the relaxing high at the same time that will help you to sleep.
Types of High
Because of this strain's strength, the effects can be overwhelming if you are not familiar with the high. If you are a new smoker, then you should take it slow. GG4 is famous for its couch locking effect. It packs strong punches even with the smallest hit.
The high of GG4 is mostly cerebral and creates a clear-headed happy and euphoric feel. It will make you laugh and giggle and push your body to relaxation. The high can last up to 3-4 hours. Once the initial high wears off, it is an extremely calming and relaxing experience. GG4 is a perfect strain if you want to chill out on the couch with your friends and unwind.
Medical Benefits
Many patients use the GG4 strain for medicinal benefits. With low CBD, GG4 is not for severe medical conditions but good for mild and moderate conditions. Due to its numbing intensity, patients often use it to get relief from headaches, chronic pain, or insomnia. The strain's Indica properties provide sedating effects instantly to manage pain from arthritis and slipped discs.
GG4 strain has an excellent reputation for treating mental disorders such as stress, anxiety, and depression. But the result is debatable as some patients experienced increased feelings of unease and paranoia. The effect is different for everyone. The best way to find out is to try it in a small dose.
GG4 also helps with stomach ailments, such as nausea and lack of appetite.
Women often reported that GG4 is an excellent strain to use for relieving menstrual cramps.
Adverse Effects
GG4 has a notorious reputation of causing a case of "head fry" in inexperienced smokers. If you are not familiar with the high, then it might make you feel paranoid. The body stone can be intense, which can cause mild cases of anxiety and nervousness in some new users. After an extreme head high, a headache is prevalent.
Like many other potent strains, some common side effects caused by GG4 strain are cases of dry mouth and also dry eyes. Using marijuana can leave you feeling severely dehydrated. So, make sure that you consume enough liquid to stay dehydrated.
Growing Super Glue (GG#4) Strain
GG4 strain can be grown both indoors and outdoors. The plants flourish in sunny, warm weather. GG4 is an easy-to-moderate strain to grow and provide generous yield. So, it's a win-win strain for all the growers and the perfect strain to grow if you have an average experience in growing strains.
GG4 is particularly sensitive to rain and moisture. So, you will need to keep the plants clear of both. However, the plant is typically resilient to pests, mold, mildew, bacteria, viruses, and insects.
The plants produce much resin, so make sure you unclog and sharpen your scissors during the harvest.
Growing Indoors
GG4 can yield an average of 18 ounces per square meter when grown indoors. This strain takes about 8-9 weeks of growth to flower.
It is a large, sticky plant that is overflowing with trichomes. When you grow the plant indoors, humidity, temperature, and light need to be precisely controlled. The airflow must be maintained, and the air must remain dry. You will need proper lighting to maintain a sunny environment inside.
Growing Outdoors
If you want to grow GG4 strain outdoors, you will need plenty of sunlight and a dry area. The plants really shine when they grow outside. They produce a generous harvest of 21 ounces per plant when grown outdoors. Harvest time is around the middle of October.
Growing Tips
The plants tend to grow very tall and very fast. So they will require regular trimming to ensure a satisfactory yield. The plants can grow up to 80 inches, so make sure there is plenty of room for the plants to grow.
Quick Reference Guide – Superglue aka GG4 Strain
Type
Hybrid Indica Dominant Cannabis Strain
Lineage
Sour Dubb x Chem Sis x Chocolate Diesel
Appearance
GG4 buds have a lovely rich dense look to it. These nuclear green buds covered in trichomes, with dark pistils.
Smell
Earthy, Sour, Chocolatey, Chemical
Taste
Chemical, Pine, Diesel aftertaste
Preferred Consumption Time
Evening, Night
Preferred Consumption Method
Smoke, Vaporize
Similar Strains
Platinum GSC
Sherbert
Blue Cookies
Concentration and Potency
| | |
| --- | --- |
| Indica/Sativa Percentage | 63% : 37% |
| THC Percentage | 27% – 30% |
| CBD Percentage | <1% |
| Effects | Relaxed, Sleepy, Euphoric, Happy |
| Duration of Effects | 3-4 hours |
Effects
Feelings
Relaxed
Euphoric
Uplifted
Happy
Sleepy
Helps with
Stress
Pain
Depression
Anxiety
Insomnia
Adverse effects
Dry mouth
Dry eyes
Paranoid
Anxious
Cultivation & Yield Capabilities
| | |
| --- | --- |
| Growing Difficulty | Moderate |
| Disease Resistance | High |
| Flower Develop | 8-9 weeks |
| Plant Height | 2 meters |
| Indoor Yield | 18 Oz/m2 |
| Outdoor Yield | 21Oz/m2 |
| Outdoor Harvesting | Mid October |