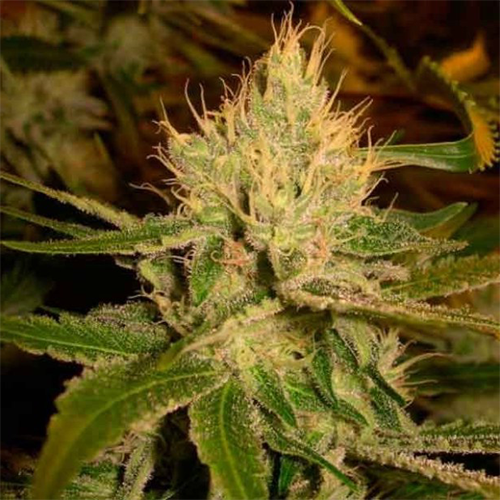 By crossing Kosher Kush and Lemon Skunk, growers at DNA Genetics were able to develop the very popular golden lemon strain. It is so well known for being such a heavy hitting strain, that if users don't have a tolerance to using cannabis, they can find themselves getting caught off guard by it's potency.
If you are looking for a strain that yields a high concentration of resin to produce concentrates, then golden lemon is the strain for you.
---
The Flavor Profile
The golden lemon strain is one of those strains that has a misleading aroma compared to its flavor profile. The aroma is strong enough to fill up a room, yet it manages to have such a delicate sweet lemony citrus flavor that is nowhere near as strong as it's aroma may suggest.
---
Growing Golden Lemon
Growing golden lemon can be done almost anywhere. It is a hardy and resilient strain, and under the right conditions, will flourish so easily that it can be mistaken for a weed. They are known to grow relatively quickly and quite tall.
In some harsher environments this strain may be more difficult to grow, but with the correct skills and resources you can propagate it successfully. However in these conditions the plants will take longer to flower which means they will yield less come harvest time.
---
Flowering
When grown indoors golden lemon can develop flowers within 8-9 weeks and yield approximately 7oz/3ft².
Plants grown outdoors can be harvested in late September to early October and yield and impressive 28oz per plant.
One of the biggest advantages that golden lemon has compared with other strains, is that it yields a good amount of resin. This resin can be used to produce high quality concentrates, edibles and hash.
---
What Gives Golden Lemon its Strong High
Although golden leaf is a hybrid strain, it is a more indica-dominant strain with a high concentration of THC, an impressive 23% in fact. Some variants have even been found to contain up to 30%.
This, along with its high resin content, makes golden lemon a heavy hitter. If you are a regular user of cannabis products, you may find this strain to be quite pleasing. If you don't use cannabis products often, you may need to take it easy with golden lemon, as its been know to sedate many first time uses.
---
Conditions Golden Lemon is Commonly Used to Treat
Whether it's through self medication or under advisement, many people have taken to using Golden Lemon to treat several medical conditions. The success rate or effectiveness of Golden Lemon is open for debate. But based on user testimonies, here are a few of the conditions people have treated with Golden Lemon and their average effectiveness:
1) Loss of Appetite
Users who have struggled with a lack of appetite, have found that golden lemon is highly effective at increasing their appetite.
Can be Highly Effective – 9
2) Depression
Golden lemon is very effective at helping people suffering from depression. The calming effect that this strain has, is more then enough to help most people forget about their worries.
If you do suffer from depression, it is best to first seek medical advice before trying to self medicate.
Can be Highly Effective – 9
3) Fatigue
Golden Lemon has little to no stimulating effects. This is not a strain you should be considering if you are trying to combat fatigue.
Not effective at all – 1
4) Pain Management
The effects of golden lemon can be very helpful for some people that are trying to manage painful conditions. This is not a guarantee for all users however, as some people have found it to less effective at managing their particular condition.
Highly dependent on the mindset and condition of the individual, as such it can be effective.
5) Insomnia
The more you continue to use golden lemon on a regular basis, the more resistant you become to its effects. First time users can find that golden lemon can put them to sleep very easily, but long time users can find it to be less effective.
Can be moderately effective – 4
6) Relieving Stress
The whole body effect of golden lemon, has been known to help relax most if not all users.
Can be Very Effective – 9
7) Anxiety
If you are accustomed to using golden lemon, it can help to alleviate anxiety by helping to calm the body and mind. Be careful however, for if you are not use to the strong effects of golden lemon, or if you partake of it too much, there is a small likelihood that it can cause you to have an anxiety attack.
Should you suffer from anxiety, it is best to first seek medical advice before trying to self medicate.
As Golden Lemon has a strong effect, it can cause Anxiety if the user has not built up a tolerance to the strain.
8) ADHD
The lack of impulse control that comes from attention deficit hyperactivity disorder can be managed with the help of golden lemon. Each person will need to be assessed on a case by case purpose but the option for a more organic treatment is available.
Highly dependent on the extent of an individuals condition, as it can be effective.
---
The Adverse and Negative Effects of Using Golden Lemon
Aside from the negative repercussions that can come from overuse or abuse of any substance, Golden Lemon is just as safe to use as any other cannabis strain. Other than a very high chance of Dry Mouth, responsible consumption of Golden Lemon has relatively low risks for the following effects:
Dry Eyes
Dizziness/Disorientation
Paranoia
Anxiety
Headaches
---
Quick Reference Guide
Cultivation Details
Growing Difficulty
Easy-Medium
Growing Conditions
Golden lemon can be grown almost anywhere.
Disease Resistance
Good
Parentage
Kosher Kush
Lemon Skunk
Growth Height
Tall
Bud Growth
Very High in Resin Content
Trichomes
Small golden trichomes
Flowering Type
Feminized
Yield Capabilities
| | |
| --- | --- |
| Flower Develop | 8 – 9 weeks |
| Indoor Yield | 5-7oz/3ft² |
| Outdoor Yield | 21-28oz per Plant |
| Outdoor Harvesting | Late September to Early October |
Pallet
| | |
| --- | --- |
| Fragrance/Aroma | Pungent Herbal, and Citrus |
| Flavor Profile | Sweet Lemon Citrus |
Concentration and Potency
| | |
| --- | --- |
| Sativa : Indica Percentage | 40% : 60% |
| THC Percentage | 23% |
| CBD Percentage | 0.2% |
| Duration of Effects | 1 – 2 Hours |
Effectiveness as a Treatment
| | |
| --- | --- |
| Loss of Appetite | Very Effective |
| Depression | Very Effective |
| Fatigue | Not Effective at All |
| Pain Management | Situational Low-Highly Effective |
| Insomnia | Moderately Effective |
| Stress Relief | Very Effective |
| Anxiety | Not Very Effective |
| ADHD | Situational Low-Highly Effective |
Risk of Adverse Effects
| | |
| --- | --- |
| Dry Mouth | Highly Likely |
| Dry Eyes | Likely |
| Dizziness/Disorientation | Low Risk |
| Paranoia | Low Risk |
| Anxiety | Excessive use can Cause Anxiety |
| Headaches | Can be Likely if Not Tolerant to Using This Strain |