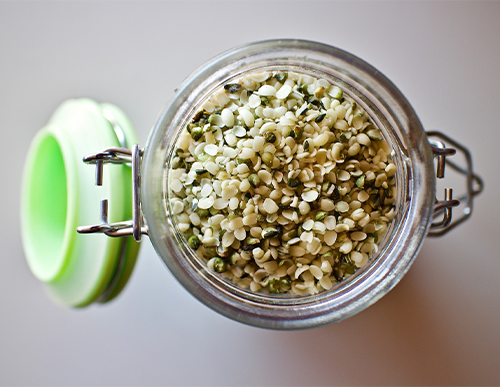 When it comes to cooking with hemp hearts, or seeds as they are also known, most people think that all recipes are either vegan or vegetarian based. This simply isn't the case.
This article will be covering some of our favorite ways that we use hemp seeds in our daily meals and snacks. If you are looking for some new recipes ideas, or for ways to boost the health benefits of your favorite meals, then this is the article for you.
What's So Great About Hemp Hearts
You may be aware of the medicinal benefits of some of the compounds found in the mature cannabis plant. But are you aware of the benefits that the seeds can also have?
Not only can the seeds be processed for their oils that can be used in a range of applications. From cooking to medicine, or even paints and plastics, the oil we extract from hemp seeds can have so many potential uses. All of which we have covered in more detail in the following articles:
Health Benefits of Eating Hemp Hearts
So what exactly are the benefits to eating hemp hearts, you may be asking. Well in short, they contain all 21 known amino acids, making them one of the best plant based protein source alternatives available.
Their structure also makes it easy for the body to brake down and absorb the proteins; and unlike meat, they can be eaten both raw and cooked.
Furthermore, the humble hemp heart is also a good source of essential fatty acids Omega 3 and 6, Gamma Linolenic Acid (GLA), soluble and un-soluble fiber, and it is high in antioxidants vitamin E, tocopherol, and phytol.
Good Alternatives and Substitutes to Hemp Hearts
For our vegetarian and vegan readers, hemp hearts are a good alternative to meat for their protein and Omega 3 and 6 content, as part of a well balanced diet of course.
But what about our lactose or gluten intolerant readers? Well good news, with a little ingenuity hemp hearts can also be an ideal substitute for you as well. For our recipe ideas for hemp milk, please have a read of our How to Make Hemp Milk article. For you coeliacs out there, read on for our meat based recipes that make use of hemp hearts instead of bread crumbs.
And lets not forget about you health nuts. If you are looking for a high protein food source, then we have the recipes for you too.
Hemp Heart Snacks
From cookies, to granola bars and protein balls, hemp hearts can be used to make many a tasty treat.
1) Protein Balls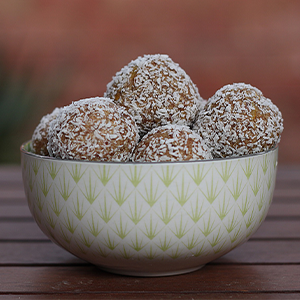 As a base recipe we start with the following ingredients:
½ cup of hemp hearts shelled
1 cup of rolled oats
8 dates, pitted and chopped
2 tablespoons of maple syrup or honey
½ teaspoon of vanilla extract
A pinch of sea salt
¼ cup of water (±)
Place hemp hearts, rolled oats and dates in a food processor.
Sprinkle in the salt, and drizzle the maple syrup and vanilla extract around.
Blend until combined.
Add a dash of water at a time, until the mixture clumps up and is slightly sticky to the touch.
You can make balls by either using an ice-cream scoop, or rolling them by hand.
The smaller the ball the more balls you can make, we usually make about 10/12 from a batch this size.
Place the balls in the fridge for 20-30 minutes, allowing them to harden before serving.
For a cool treat during summer, place them in the freezer once they've set.
You can flavor the protein balls by adding any of the following ingredients to the first step:
½ cup of ground cashews or cashew meal
½ cup of almond slivers
½ cup of crushed walnuts
¼ cup of chia seeds
2 Tablespoons of mini choc chips
2 Tablespoons of unsweetened coco or cacao powder
Alternatively, for an extra crunch and flavor, you could roll the stick balls in shredded coconut, or cookie crumbs before chilling.
These protein balls can be kept in the fridge for about a week; longer if kept frozen.
---
2) Hemp Heart Cookies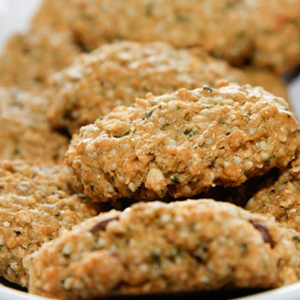 These delicious cookies are packed with protein and make for a great snack. For an easier process, group the ingredients as follows:
1) Flax Seed Milk
1 tablespoon of ground flax seed
2 tablespoons of hemp milk or unsweetened vanilla almond milk
2) Dried Ingredients
1 cup of rolled oats
1 cup of almond flour
1½ teaspoon of cinnamon
¼ teaspoon of sea salt
½ teaspoon of baking powder
3) Wet Ingredients
½ tsp vanilla extract
¼ cup almond butter
½ cup of pitted and sliced dates
1 very ripe (blackened) banana
2 tablespoons of coconut oil melted
¼ cup maple syrup or honey
4) Solid Ingredients
½ cup of hemp hearts (set aside more to sprinkle on top)
½ cup of almond slivers
Step 1)
Combine the ground flax seed and hemp milk in a bowl, and leave it to rest in the fridge for at least an hour.
Step 2)
Preheat the oven to 350°F, and prep your cookie tray or place baking paper onto a baking tray.
Step 3)
Place the wet ingredients and the flax seed/hemp milk into a food processor, and combined until a smooth texture is formed.
Step 4)
Transfer the wet mix into a bowl, and add the dry mix until combined. Fold in the solid ingredients (almonds and hemp hearts).
Step 5)
Using either an ice-cream scoop or roll by hand, make 12 small balls. Flatten them to about ½" thick, and place them on your baking tray.
Step 6)
Sprinkle the unbaked cookies with some more hemp hearts. If the dough is too dry for the hemp hearts to stick, give them a lit misting with water and try again.
Step 7)
Bake in the oven for 12-15 minutes, or until golden brown. Let them cool down before serving.
---
Meat and Hemp Heart Recipes
Hemp hearts need not only be something that vegetarians and vegans can enjoy. Meat lovers can also benefit from the nutritional values of this wondrous seed.
1) Hamburger Patties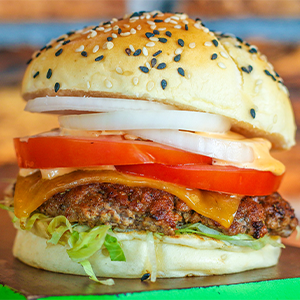 By simply adding hemp hearts to your hamburger patty, you are able to increase it's protein content. You may even find that the hemp hearts can give it an extra kick.
1¼ lbs ground beef
1½ cups of hemp hearts
1 egg
1 onion, finely diced
¼ teaspoon garlic salt
salt and pepper to taste
Step 1)
Beat the egg in a bowl will the salt, pepper and garlic salt.
Step 2)
Mix in the diced onion before adding the mixture to the ground beef. Work the egg into the meat by either using a food mixer, or by hand.
Step 3)
When all the egg mix has been worked into the meat, add the hemp hearts, and mix them through the meat until evenly spread.
Step 4)
Portion the meat into balls that are big enough to close your fingers around.
Step 5)
Place the balls in the fridge to chill until needed. When ready to cook them, flatten the balls to the desired thickness. Cook the patties on a grill of hot plat until the under side is golden brown, flip and repeat.
Step 6)
With both sides of the patty cooked, serve on a bun with the salad and garnish of your choosing.
---
2) Meatballs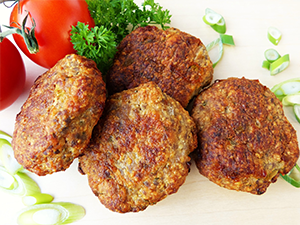 Whether you love a meatball sub or just like to each your meat balls as part of a meal, adding hemp hearts can help to take them to the next level.
1 lbs ground beef
1 cup of hemp hearts
2 eggs
1 teaspoon ground pepper
¼ teaspoon of sea salt
1 teaspoon of unsalted seasoning mix (use more sea salt to taste if you have no seasoning)
½ cup of fresh cilantro, roughly chopped
1 onion, finely diced
2 garlic cloves, finely chopped
Step 1)
Beat the eggs with the pepper, sea salt and seasoning.
Step 2)
Lightly caramel the diced onions and garlic in a fry pan with a dash of butter before adding them to the egg mix.
Step 3)
Add the cilantro to the egg mix before working the mixture into the meat. This can be done with a food mixer, or by hand.
Step 4)
Once the egg has been work through the meat, add the hemp hearts and continue to mix them through until they are evenly spread throughout the meat.
Step 5)
Portion the meat into small, golf ball sized balls, and fry them in a pan with some oil. Turning them over every few minutes until the are cooked right through. This may take 15-20 minutes, depending on the size of the balls.
Step 6)
Either serve them as they are, or transfer them to a baking tray and simmer them in your choice of sauce.
---
3) Hemp Seed Encrusted Chicken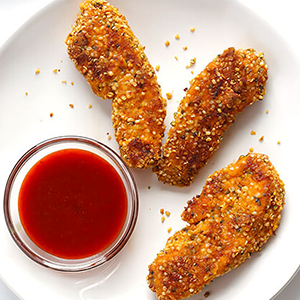 Instead of using flour or bread crumbs to coat your chicken bits, chicken schnitzel, or chicken tenders, why don't you give a hemp heart-crust a go.
To make more or less of the coating mix, we use the almond meal as the base ingredient. All other ingredients are portioned out according to how much almond meal we are using, so if we double or halve the amount of almond meal, we do the same for the other ingredients.
To every Cup of Almond Meal use

1 cup of hemp seeds with husks
½ teaspoon of ground black pepper
1 teaspoon of sea salt
2 teaspoons of garlic powder
1 teaspoon of paprika

Your choice of chicken pieces

Skin less breast
Thighs
Drumsticks

2 Eggs
Step 1)
Place the hemp seeds in a food processor and use a pulse setting to break them down until grainy.
Step 2)
When you are happy with the texture of the hemp seeds (not too big and not turned to powder) add the other ingredients and thoroughly mix them together.
Step 3)
Beat or whisk the eggs and set them aside in their own open bowl or tray.
Step 4)
Prepare your chicken. You can cut the breast and thighs into strips or chucks. Or you could tenderize the breast and beat it flat for a schnitzel style meal.
Step 5)
Take your chicken preferred style of chicken pieces and submerge them in the egg. They need to be completely coated with egg, but allow any excess egg to drip off back into the bowl/tray.
Step 6)
Coat the egg covered chicken pieces with the dry mixture. How you apply the mixture is up to you. You can pour it into a tray to press the chicken pieces down onto it. Or you can put the chicken pieces and the mixture into a bag and give them a shake and rub.
Step 7a)
Lightly shake the pieces to remove excess coating and place them on a baking tray. Using a preheated oven set to 425°F, bake until golden brown and the juices flow clear. This can take 15-20 minutes, if the coating begins to darken before the meat is cooked, lower the temperature of your oven.
Step 7b)
Alternatively, you can fry the coated chicken pieces if you prefer. Either place the chicken in the fryer one at a time as soon as you've coated them, or you can allow them to rest in the fridge and fry them in batches instead.
---
Meat Free Hemp Heart Recipes
For our non-meat eating readers, here are two of our favorite meat free recipes.
1) Hemp Heart Frittata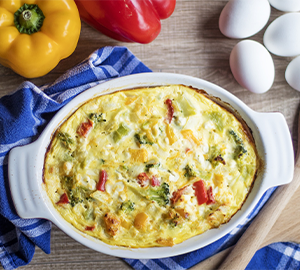 A frittata, otherwise known as a crustless quiche, is an egg based Italian dish. By adding hemp hearts to this dish, not only are you giving it a little extra flavor, you are also substantially boosting its protein content.
½ cup of hemp hearts
12 eggs
½ cup of Hemp Milk, or unsweetened vanilla almond milk
¼ cup of feta cheese
¼ cup of sun-dried tomatoes
1 medium-sized zucchini, thinly sliced
½ an onion, finely sliced
½ cup of shredded carrot
1 tablespoon of extra virgin olive oil
sea salt and ground black pepper to taste
Step 1)
Preheat the oven to 375°F and grease up a medium sized oven baking dish.
Step 2)
Caramelize the onion and zucchini slices in a fry pan with butter or oil.
Step 3)
Whisk the eggs and hemp milk together in a large bowl. Add the hemp hearts, carrot, onions, and most of the sun-dried tomatoes. Salt and pepper to taste.
Step 4)
Stir the feta into the egg mix, before lightly pouring the mixture into the oven baking dish. Cover the top with the zucchini slices and the remaining sun-dried tomatoes.
Step 5)
Place in dish in the oven and bake for 18 minutes, or until golden brown and the center has set. Allow it to cool sightly before serving.
For extra flavor, you can also use bell peppers, potatoes and yams, or asparagus or tofu. Feel free to customize the dish to suit your needs and tastes.
---
2) Hemp Heart Falafel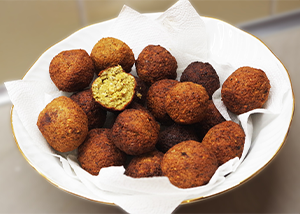 This Middle Eastern inspired dish makes for a great snack on its own, or as a filling for sandwiches and wraps, or as a good alternative to hamburger patties.
3oz of hemp hearts
¼ teaspoon of ground black pepper
1 teaspoon of sea salt
1½ teaspoons of cumin
¼ teaspoon of paprika
3 tablespoons of almond flour
½ an onion, finely diced
1 garlic clove, minced
2 teaspoons of fresh cilantro, finely diced
½ cup of fresh mint leaves, finely sliced
½ cup of fresh parsley, finely chopped
1 can of chickpeas, drained and rinsed
Olive oil for coating
Step 1)
Preheat the oven to 450°F, and prepare the baking trays.
Step 2)
Place the mint, chickpeas, and parsley in a food processor, and use a pulse setting to break down the chick peas until they have a grainy texture.
Step 3)
Add the remaining ingredients and use the pulse settings again until the texture is smooth.
Step 4)
Remove the mixture from the food processor, and roll it into golf ball sized balls, flatten into ¼" patties.
Step 5)
Give the patties a light spritz/coating with olive oil, and place them on the baking tray. Bake for 15-20 minutes, or until golden brown.
Step 6)
Serve with dip, or salad, or use them as fillings for sandwiches on in a bun or wrap.
---
Final Thoughts
These are only some of our preferred recipes. Hemp hearts can also be add to salads, smoothies, and cereals. If you have any of your own recipes, please feel free to share them with our readers in the comments section below.